PVD process is growing very fast. That's because it offers a large variety of coating materials, which can be coated on almost all kinds of substrates, like metals and plastics.
In this article, we will discuss the PVD coating materials as well as the list of materials on which the PVD process can be done. You will also learn about PVD coating properties such as thickness and hardness.
So, let us start right away.
1. What Can PVD Coating Be Made of?
The PVD coatings are mainly made up of the following substances:
Gold
Graphite
Titanium
Zirconium
Aluminum
Silicon Oxide
Diamond-like Carbon ( DLC )
Sulphur and Molybdenum based
Different materials will show distinct final results and affect the cost of PVD coating as well. You should choose based on your requirement.
Gold as a coating material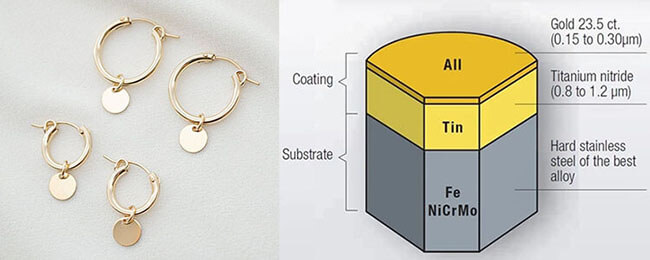 Gold coating mostly gives a finish to jewelry and watches, which can make the surface of the products smooth and shiny. Besides, you can get the similar golden product at a much lesser price than the real gold one. 
Metal jewelry like stainless steel jewelry with 14k or 18k coating are popular in the market now. Besides, gold finishes are also used widely in aerospace applications.
Graphite as a coating material
Graphite coating provides a dark bright finish with excellent load-bearing properties. It is mostly used on products ( substrates ) that have a use in fluid areas such as bathroom accessories, kitchen accessories, etc. Graphite coatings provide high wear resistance as well as low friction features to the product.
Titanium as a coating material
Titanium is most commonly used in 3 forms:
Titanium Nitride
Titanium Carbon Nitride
Titanium Aluminum Nitride
Titanium-based PVD coatings increase the hardness of a material by many folds. Titanium nitride coatings are only second to diamond in hardness. They provide excellent oxidation resistance and are mostly used on injection molded parts, cutting tools, medical components, watches, and many more.
Zirconium as a coating material
Zirconium coating is mostly used in the form of zirconium nitride. It provides a hardness of 2800 Vickers ( HRc-80 ) and a lifetime corrosion-resistant finish. Zirconium nitride coating is mostly used on machines. 
Aluminum as a coating material
Aluminum is used separately as well as in a mixture with other materials. Aluminum as a PVD coating material are common in the automotive industry.
Aluminum has good strength, excellent resistance, a shiny look, and many more properties. It is mostly coated on plastic parts, such as logos, lights, etc.
Silicon Oxide ( SIOX ) as a coating material
Silicon Oxide ( SIOX ) is one of the most versatile coatings that is available on almost any PVD material such as metals, plastics, alloys, and many more. 
The best thing about these coatings is that they can enhance the desired properties without altering the smoothness or brightness of the product ( substrate).
Diamond-like Carbon ( DLC ) as a coating material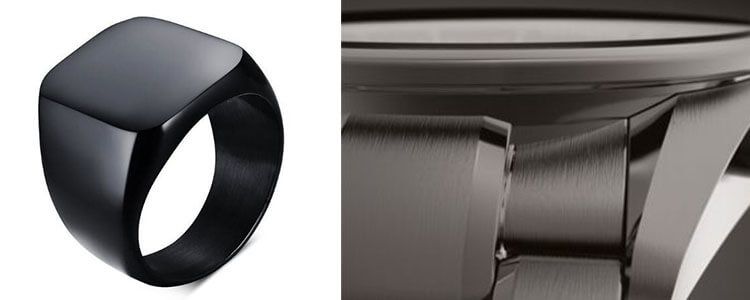 Diamond-like Carbon ( DLC ) finish is made by amorphous carbon coating. DLC finish means that it has a hardness of diamond and the lubricity of graphite.
On the Vickers scale, DLC coatings can even attain a hardness of 9000 HV only second to diamond which is 10,000 HV. It is mostly used on watches to enhance functional properties while maintaining a luxurious look.
Some people don't know about DLC and mistake it as a coating method different from PVD. That's wrong. DLC is not a method. In my previous blog about PVD coating on watches, I compare the 2 coatings. You can check to find out the differences.
Sulphur and Molybdenum based coatings
Sulphur and molybdenum-based coatings are mostly used by NASA. They provide great resistance to wear and tear. These coatings provide low friction qualities even less than Teflon and graphite in some cases. On the Vickers scale, their hardness is 1500 HV – 2000 HV.
2. What is the Thickness of PVD Coating?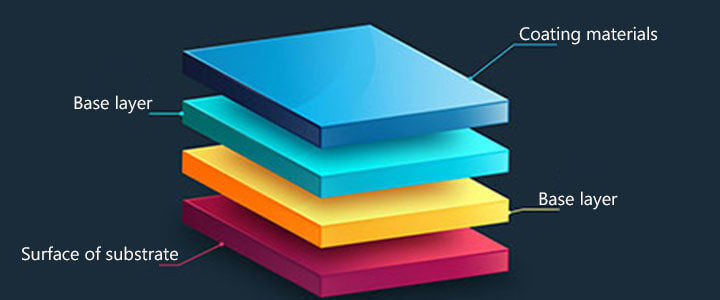 PVD coating is also known as the thin-film coating method. 
The thickness of PVD coating lies between 0.25 to 5 microns.
0.25 micron aside, even 5 micron is so thin that it is hard to notice. The diameter of human hair is 70 microns. Just imagine how thin it will be, 5 microns.
These 0.25 to 5 microns can enhance the smoothness, hardness, corrosion resistance, load-bearing capacity, and many more properties of a material without changing its appearance.
This thin film by altering the parameters can provide a wide range of colors and finishes, such as brass, rose gold, gold, nickel, blue, black, and many more. You can check my previous blog to know more details about PVD coating colors and finishes.
3. What is the Hardness of PVD Coatings?
The hardness of the PVD coating depends on the following factors:
The hardness of PVD coatings usually lies between 1500 HV – 4500 HV. In some cases, PVD coatings hardness can reach 9000 HV if the coating substance is DLA.
On the Vickers scale, the carbon steel has a hardness of only 250 HV while nickel and chromium-plated steel hardness lies between 600 HV – 1000 HV. So, In comparison, PVD coatings are very hard ( 1500 HV – 9000 HV ).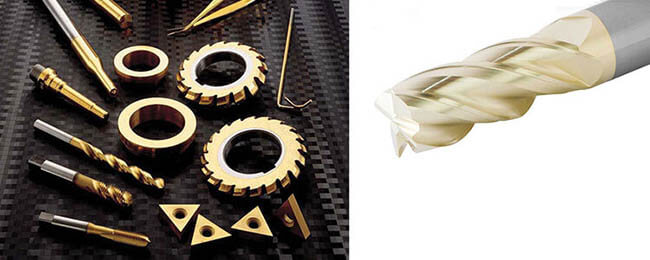 4. What Materials can be PVD Coated on?
PVD coating can be done on all kinds of metals and plastics. In the following, you'll learn the most commonly used substrate metals and plastics.
The most commonly PVD coated metals are:
Zinc
Brass
Copper
Graphite
Titanium
Aluminum
All kinds of Steel
In general, the manufacturers will use base metals or metal alloys as the substrate to improve their features and apperances.
People plate a metal or metal alloy on the surface plastics to metallise the plastic products. It can be a way to save the profit and the coating usually has a decorative and functional purpose.
The plastics which are usually used for PVD coatings:
PVC
Nylon
Epoxies
Polyester
Phenolics
ABS plastic
Polyethylene
Polypropylene
Polycarbonate
Besides, some PVD substrate have excellent adhesion properties so they do not need any base layers while others require a nickel or chromium or stainless steel base layer for better results.
You can see the chart below to learn which materials require base layer and which do not base layers for better outcomes:
Do Not Need Base Layer

Need Base Layer

(Coating can also be applied directly)

Titanium;Graphite;Stainless Steel

Steel;Brass;Copper
5. PVD Coating on Stainless Steel
PVD coating on stainless steel is a very famous and most recommended method to improve the property of stainless steel.
The most popular areas where PVD coated stainless steel is used are:
Jewelry
Transport
Architecture
Functional Parts
PVD coating on stainless steel jewelry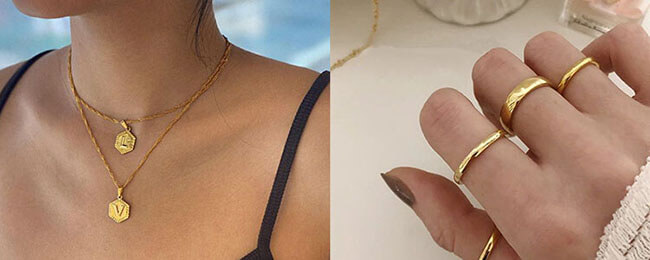 PVD coating on jewelry made of stainless steel is used to get a variety of colors, such as gold, rose gold, coffee, black, blue, and a lot more. It also provides different surface PVD metal finishes on jewelry, such as matt, polished, etc.
In the market, there are huge distinctions concerning prices among different stainless steel jewelry but you can hardly find the differences among these different products. 
That's because these jewelry have different kinds of plating, which usually are 14k and 18k, and distinctive raw materials, which can be 304 or 316L stainless steel.
Functional Parts of machine
Besides the decorative function, stainless steel is used to make functional parts, even sometimes a whole machine. 
In those cases, PVD coating enhances the various functional properties such as hardness, corrosion resistance, friction, smoothness, and more. PVD coating enhances the lifespan of the part. Also in some cases, the functionality of the part is not possible without PVD coating.
PVD coated Stainless steel is used in moving vehicles in order to give functional enhancement as well as decoration to many areas, such as ceiling, walls, seats, and many more.
PVD coated Stainless steel cladding and profiles are used in shopping malls, hotels, railway stations, shops, etc. They not only last longer but also provide premium decoration at low prices.
All in all, stainless steel is one of the most recommended metals for PVD coating due to the following reasons:
It does not require any base layer
It provides excellent adherence with a coating substance
Stainless steel is economically more beneficial than other metals
Stainless steel is durable as well as inherently corrosive resistant
Final Words
If you have more issues about PVD technology, you can leave a message below to state your opinions. If you think this article is beneficial, please share it with your friends or on your personal social media.
We're Jingsourcing, a leading sourcing company in China. If you want to wholesale or customize jewelry from China, please feel free to CONTACT US.