Stainless steel jewelry is popular, affordable, and available in all alluring designs. However, many people are concerned about their safety, durability, longevity, and more properties. Whether stainless steel jewelry is good or not is affected by its raw materials, plating, and other processes. You should understand and choose stainless steel jewelry by considering different aspects.
Here, I'll analyze the charateristics of stainless steel jewelry for you and list some common questions about it. Please follow up with us throughout the article to find the answers.
1. Pros and Cons of Stainless Steel Jewelry
Stainless steel jewelry is trending but nothing is perfect, neither it is. You can check all of its pros and cons to help you make a sensible decision before buy for your personal use or business.
Advantages of stainless steel jewelry
Durability: Steel is known for its durability and long-lasting nature. Stainless-steel jewelry can withstand several years without scratch and dullness. This item can even be in excellent condition for generations to come. Further, the material's durability is also contributed by "Titanium", a very robust material.
Excellent compatibility with both genders: Stainless steel is famous among women for jewelry. And so, among men too, for premium watches and eyewear, making it a versatile option. The male fashion industry has flourished with stainless-steel products, as they give a masculine appearance when put on with all kinds of apparel.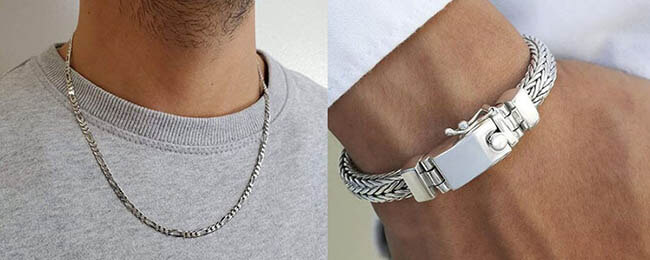 Affordable: A stainless-steel ring or ornaments are more affordable than gold or silver jewelry. The price of stainless steel jewelry is mainly determined by the plating process, stainless steel elements, etc.
Tarnish-resistant: Gold and silver jewelry is fascinating though will easily get a stain. In contrast, stainless-steel jewelry is provided with an invisible layer of chromium which protects it from oxidation. Further, stainless-steel jewelry doesn't need frequent polishing and careful handling.
Disadvantages of stainless steel jewelry
Resize issues: Stainless steel jewelry is quite hard to resize. Ornaments like rings, anklets, and bracelets are more prone to this problem as they need perfect size to fit. Even if you get to resize the jewelry, then the operation might tilt its natural appearance.
Limited Designs: Stainless steel is not an ideal workpiece due to its rigid and inflexible nature. That's why there are few options available in the market. In addition, you might not consider it as an option in public events due to its non-variant nature.
Non-hypoallergenic: It contains nickel, which can react if it comes in contact with susceptible skin. However, it's an exception for surgical stainless steel, which is hypoallergenic.
Tend to develop dents: Although stainless steel is known for its hardness and durability. But it can still develop dents if used carelessly. Consequently, it may lead to scratching and restructuring.
2. Which Grade of Stainless Steel Is Better For Jewelry?
There are mainly 2 Common types of stainless steel used in jewelry. They're grade 304 and grade 316. I'll introduce the 2 materials respectively to compare their characteristics.
Stainless steel grade 304 is the most common type of steel used in jewelry and is also known as 18-8 stainless steel. It comprises 8-10.5% Ni and 18-20% Cr. Although SS 304 is non-magnetic, it can develop feeble magnetism after cold working (rolling, bending, stretching, etc.). This is due to the conversion of some part of austenite into martensite.
Grade 304 is a nickel-chromium alloy which provides it an excellent corrosion resistance for a long time, thus used in jewelry making. Further, SS 304 comes in several variants including 304H, 304N, and 304L.
When Molybdenum (Mo) is added in SS 304, stainless steel grade 316 is formed. Due to the addition of Mo, there is further improvement in corrosion-resistant properties. However, grade 316 is further classified on the basis of carbon content: SS 316L (low carbon content).
In comparison, SS 316 is better than SS 304 in terms of corrosion resistance, heat resistance, and other properties. Consequently, the price of SS 316 is generally higher than SS 304.
Undoubtedly, grade 316 is better when it comes to resistant properties and hence 316L stainelss steel is good choice for jewelry. And you need to tell the 2 materials by professional test.
3. How To Choose The Right Stainless Steel Jewelry For You?
When choosing stainless steel, you should consider different aspects since there are many factors that would determine the price and quality. There are 3 main factors that you should consider:
Check the grade of stainless steel
Check the polish quality
Choose the right plating process
Check the grade of stainless steel
As we have mentioned above, there are 2 commonly used grades, 304 and 316 stainless steel. 316 stainless steel is better and more expensive than 304. Thus, 316 stainless steel is usually applied to high-ended jewelry. However, you can hardly tell two materials from their appearance so that it needs a test if you want to check the grade of stainless steel.
Check the polish quality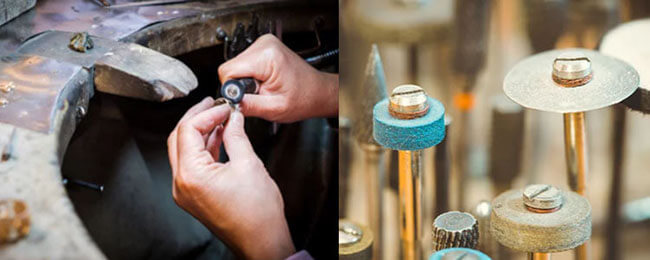 While buying stainless steel jewelry, you have to pay close attention to the fine details of the item. Check if the level is even throughout the surface. Further, you can ask the jewelry suppliers or manufacturers about the polishing of the item.
Choose the right plating process
If you want jewelry with lower costs, then you may consider electroplating, which is less expensive. However, if you have the budget to invest in jewelry, then PVD-prepared jewelry would be the best to have an excellent luster effect.
4. Does Stainless Steel Jewelry Tarnish or Rust?
Tarnishing or rusting is something inevitable, and every element has to go through it. Likewise, stainless steel is no exception here. There is a widespread misconception that stainless steel jewelry will never tarnish or rust due to the outer Chromium film. But the continuous contact of the jewelry with the external environment fades its appearance over time.
Stainless steel jewelry contains about 10% Chromium which protects it from tarnish and rust. Additionally, the usage of the product can alter the average rusting or tarnishing time of the product. The stainless steel jewelry like rings, necklace will tarnish in a short time if being regularly contacted with water.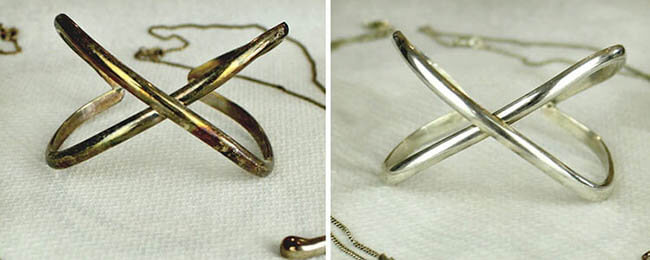 5. Is Stainless Steel Jewelry Safe To Use?
Stainless Steel Jewelry is safe to wear because it has the least toxic substances. I'll explain in detail the quantity of toxic substances which are used in stainless steel jewelry. Further, I curated a list of certifications used to verify their safety.
Is Stainless Steel Jewelry Toxic?
Indeed toxic substances like Nickel (ni), Cadmium (Cd), Lead (Pb), polishing compounds, cyanide, acids, solvents, plastic, are used in local jewelry products. Moreover, Cadmium is used to coat and paint the jewelry.
But in stainless steel jewelry, ⅔ of the global Ni and 18% Cr are used in very little quantity that cannot harm your skin. Plus, both 316L (10% Ni) and 304 L (8% Ni) have a very low quantity of nickel. You can wear it even if you're prone to nickel allergy.
If Ni causes you irritation, you can ease it with skin moisturizer, soothing lotions, and wet compresses.
Certificates Needed For Stainless Steel Jewelry
Certifications actually are material durability agreements. Stainless steel jewelry is covered and regulated by different testing and inspecting organizations. Here is the list of the most authentic certifications.
Mill Certification
CTI Certification
SGS Certification
Mill certificate is generally known as MTC. It provides steel's quality and informs the purchaser about its properties.
In the steel industry, two MTC are used: MTC 3.1 plus MTC 3.2. Both MTC is issued by the manufacturer and inform the purchaser that the products are according to the buyer's order. It is considered an official certificate.
Centre Testing International (CTI) is an international company that provides Certification to different companies in different niches, Whether it is safety, food, or energy, etc.
CTI ensures the purchaser that the product he wants to buy is certified. The product is tested by a CTI-licensed agency and will perform as the manufacturer explains.
SGS Certification is issued by a multinational company having main headquarter in Geneva. The company basically provides inspection, testing, verification, and certification services to those who want to engage with it.
SGS company testing the quality and quantity of traded goods against health and safety standards. Moreover, it inspects whether the manufacturer is fulfilling the criteria set by the government or not.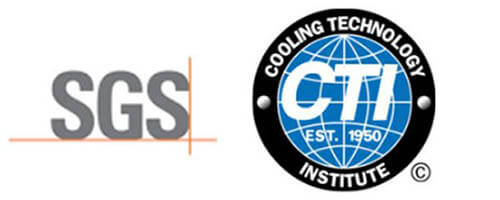 6. How Long Does Stainless Steel Jewelry Last?
Generally, stainless steel jewelry can withstand several years without having much difference in appearance. However, it also depends upon the plating process used while manufacturing the jewelry. Some common methods are PVD (Physical Vapor Deposition) and electroplating.
In PVD, the layers are deposited atom by atom in a vacuum chamber onto a solid surface. The layers can be from one atom to a millimeter thick. There may be several layers of different materials. The thickness of 0.25 to 0.7 microns is commonly referred to an as thin film and is very common in the jewelry and watch industry.
PVD coating on jewelry has a thickness of 0.20 to 0.28 microns. It is very rare to find jewelry made of 0.7 microns coated steel (some top brands use 0.350.5 microns) as the price change is not proportional to the difference in thickness.
Some types of PVD coating methods are given below:
Cathodic arc sputtering.
Physical vapor deposition with the electron beam.
Evaporation precipitation (mainly used for jewelry and watchmaking)
Pulse laser spray deposition
Inexpensive jewelry with a thin coating of precious metal has probably witnessed the final effect of electroplating. It is an electrochemical reaction used to apply a thin metal coating to an object.
The electroplating process is quite simple. First, a negative charge is placed on the object to be coated. The item is then immersed in a metal saline solution that will be used to laminate the item.
The choice between PVD and electroplating depends on your preferences and budget, as well as many of the factors mentioned above.
If you are making jewelry that will usually be cheaper, electroplating may be the best option. High-end jewelry requires a stronger, more durable, and corrosion-resistant coating. In that case, PVD plating is the right choice because the cost of PVD coating is higher.
7. Does Stainless Steel Jewelry Turn Green?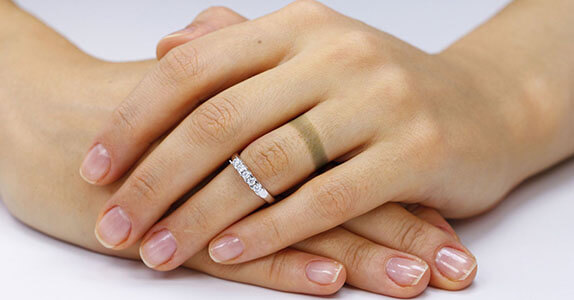 Despite being trending jewelry material, many people complain about green marks after wearing stainless steel jewels. This green spot is not a skin allergy, as skin allergies often lead to redness, swelling, and itching. This green shade left on your skin will disappear on its own if you remove your jewelry from time to time.
Perhaps, this may depend on the quality of the jewelry or a skin allergy to steel. But the main reason for green skin is that the acids in the skin react with the metal alloy to form a salt compound. It's a green glow that stays on your skin. Duration of heat and moisture will also accelerate this reaction.
To avoid the skin turning green, you can paint the jewelry with transparent nail polish so that there is no reaction between the skin and the metal. Finally, if it turns green, brush it off with a little soap and elbow grease.
8. Is Stainless Steel Jewelry Waterproof?
Yes, stainless steel jewelry is waterproof due to the presence of Chromium film. Besides protecting from tarnish and rust, this film plays a prominent role in making the jewelry waterproof.
The presence of a stable layer prevents corrosion by acting as a barrier to limit the ingress of oxygen and water to the underlying metal surface. Without this thin layer, the metal will react in the presence of water and corrode to form a matte layer of rust. However, this natural oxidation reaction is prevented by stainless steel, making it a waterproof metal.
Conclusion
After reading this post, you must understand stainless steel jewelry better than before. If you think this post is useful, don't forget to share it with your friends or on social softwares such as Facebook, Twitter, Reddit, Quora, etc.
We're Jingsourcing, a leading sourcing company in China. If you want to wholesale or customize stainless steel jewelry with higher quality and more latest designs at competitive prices, we're the perfect partner. We can help you find many good jewelry wholesalers and manufacturers from China. Please feel free to CONTACT US if you want help.