According to data published on the Internet, Alipay is now the biggest mobile payment platform having over 1.2 billion active users.
With mobile payments like Alipay, China has entered into a cashless society. You can pay for everything in every aspect of your daily life without carrying any cash in your pocket.
However, to many people in other countries, this kind of cashless lifestyle still remains a curiosity. For those who are not quite familiar with Alipay, this complete guide will help you to learn to use it like the Chinese locals.
How to open an Alipay account?
To apply for an Alipay account, you need to prepare
But no worry if you don't have a Chinese bank card, you can still use Alipay through Tour Pass – a mini-app of Alipay we'll get to know in the following text.
The application process itself is simple enough for everyone:
1. The first step is to download the Alipay app in an app store, which is available on both iOS (App Store) and Android (Google Play).
2. Click the "Sign up" button and input a phone number that you can receive short message with.
3. After you finish the sign-up process, enter the "Me" page of Alipay, tap on the "Bank Cards" button, and submit your bank account information.
4. Till this step you should've got yourself a fully functional Alipay account already, if not, you may need to carry on an additional verification process to verify your account.
How to make a payment with Alipay?
The most frequently used way of making payments is by scanning QR codes.
Generally, there are two types of QR codes: scan – to – pay and scan – to – collect, so there are two ways of making payments by scanning: either you scan someone else's code, or someone else scans yours.
If you are making a payment when shopping, normally the merchant will display a code for you to scan.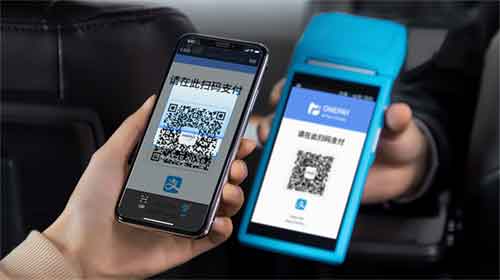 After the scan, you have to type in the amount payable in the blank and click the "pay" button to finish the transaction.
If it is the other way around, you can show your pay code to the merchant, the payable amount will be automatically deducted from your account after the merchant scans your code.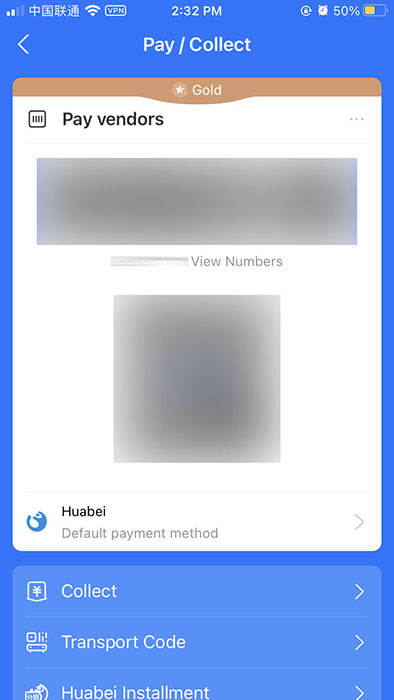 Though this "pay vendors" code will be refreshed into a different one every minute, you still have to take enough precautions when showing your code in public places because anyone with an Alipay app can scan your code and transfer money out of your account.
If you are to receive money from someone else, like a friend of yours, you can use your collect code by tapping the "Collect" button right down below the "pay vendors" code.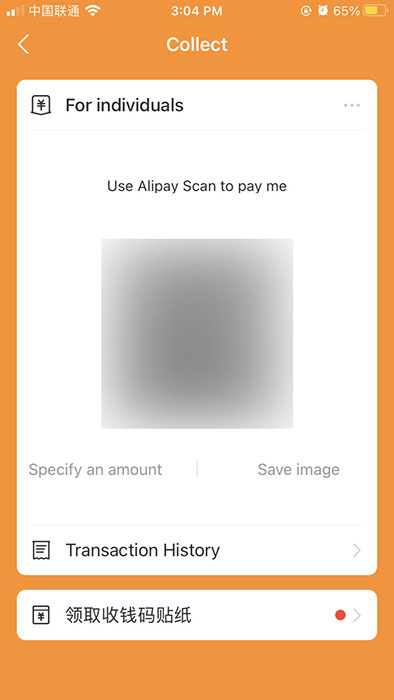 Besides scanning QR codes, if you have the receiver's Alipay account, you can also use the "Transfer" feature, which normally can be found on the homepage of the Alipay app.
What Can I do with Alipay?
Alipay is known as a super app integrated with all kinds of mini-programs that cover almost all the demands you can possibly have during your everyday life.
The list goes on with more commercial and municipal features covering every aspect of your life, and most of these functions are used through the mini-apps installed on Alipay.
These mini-apps are extremely powerful in making your life more convenient. For demonstration, we'll list a few of the useful mini-apps here:
1. Tour Pass
This mini-app was launched by Alipay in 2019, which is aimed at helping foreign tourists in China to solve the payment barriers. With this mini-app, you can access all those super-convenient features of Alipay even without a Chinese bank account.
The first step to use Alipay with your non-Chinese bank cards is to open this mini-app, which can be easily found in the "all" list of apps on the home page, or you can search for it directly in the search bar.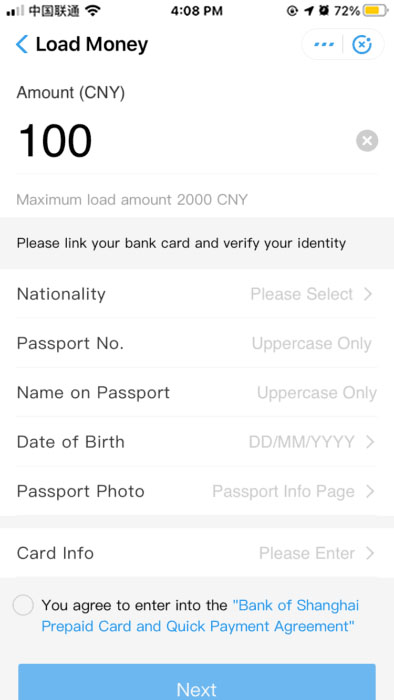 Then you have to upload your personal information such as your name, passport number, and visa photo to verify your identity. After that, you can top up your balance of the prepaid card provided by Bank of Shanghai by using your own bank cards.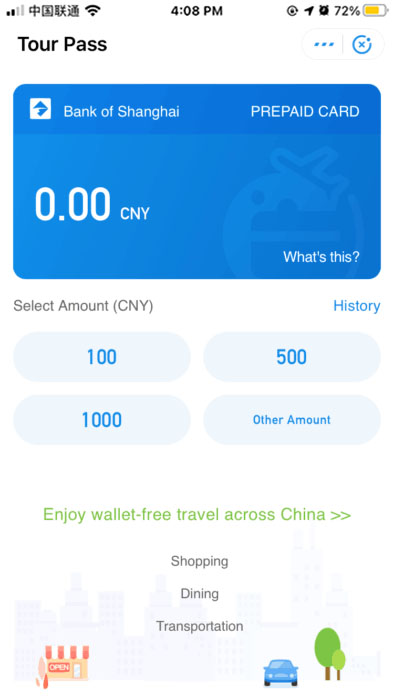 Two tips to be noted when using this app:
the balance cap is RMB2, 000, 
the prepaid card will expire after 90 days from the application.
2. Utilities
This is a great app to pay all your housing bills such as water bill or electric bill at home without doing any paperwork.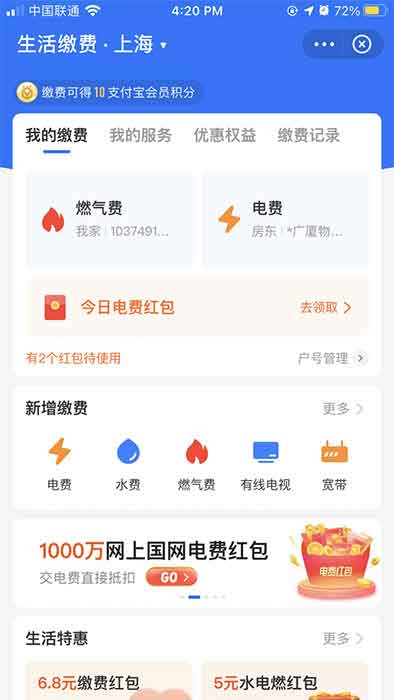 And after paying your hosing bills, you can also ask your roommates, if any, to split the bills with you using the Collect function of Alipay.
3.  Top Up Center
One of the most used features by Chinese users. People use it to top up their phones and all kinds of things.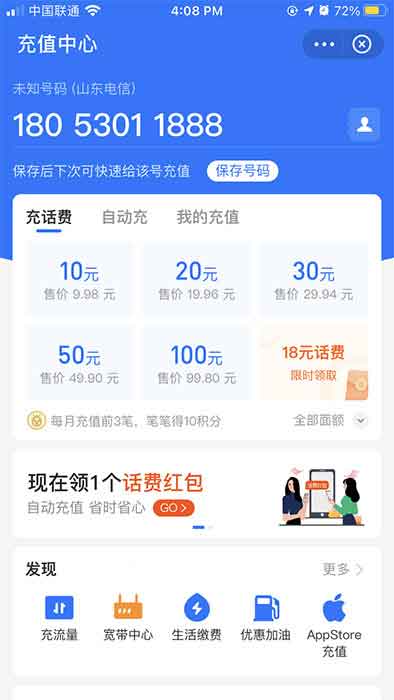 You just have to type in the phone number you intend to top up for, and choose the amount and pay – just as easy as that, you don't need to go to any service provider or even open any website.
4. Card Repay
This is a rather convenient mini-app for repaying all your credit cards.
You can add your credit cards here and set a reminder for the repaying date, then you can repay your cards using any funds available in your Alipay account.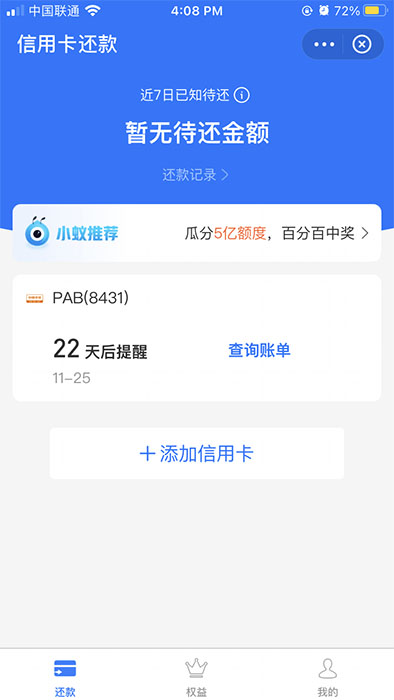 Of course, features like transactions checking and repaying history are also available too. 
5. Didi Taxi
It is probably the most important transportation app when you are traveling in China. Basically, it's the Chinese version of Uber despite that it actually bought out Uber's business in China a few years ago.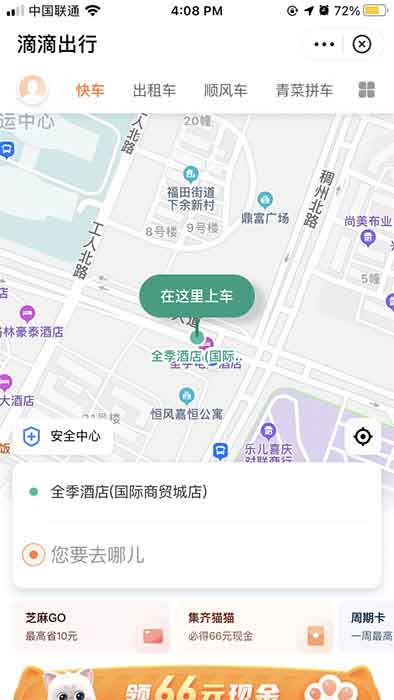 When you open this mini-app, you should see a UI showing your current location and a blank to fill in the destination you'd like to go to.
6. Air & Rail
This is another super useful app for traveling in China.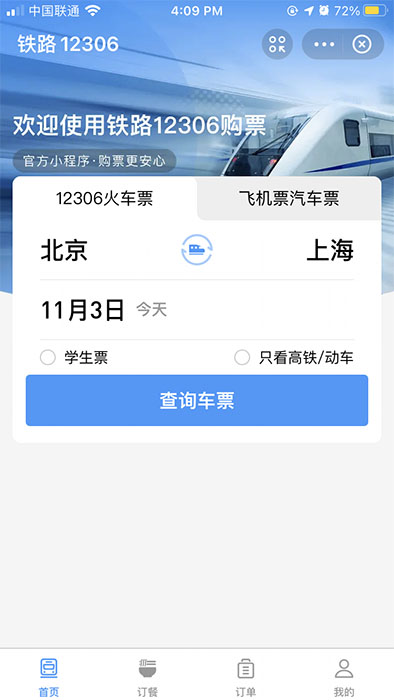 In this mini-app of Alipay, you can not only buy bus tickets, train tickets, and flight tickets but also book hotels.
7. Movies
Anytime you feel like going to a movie, an exhibition,or a concert, all you have to do is to open this mini-app on Alipay and see if there is anything you are interested in.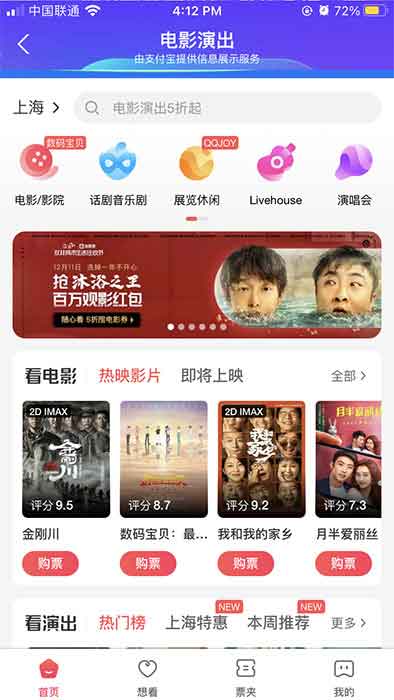 Choose a movie and this app will show you all the available cinemas near you.
You can easily locate the nearest cinema, pick a time, book a movie that you want to see, go out, use the Didi taxi mini-app, and go straight to your destination. 
8. Traffic
If you are going to stay in China for a while, this Alipay mini-app will certainly be of great use to you, especially when you live in big cities like Shanghai or Beijing.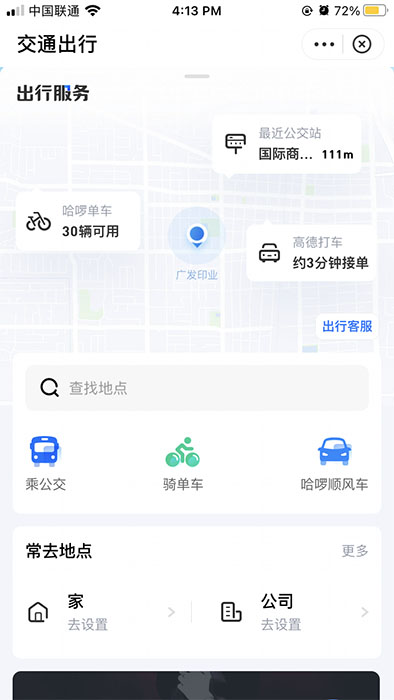 With this app, you can easily check the real-time traffic situation on Alipay.
Same as Didi Taxi, when you open this app you'll face a UI showing your current location and a blank to input your intended destination.
When you type in your destination, it'll show you 3 options to get there: the greenest option, the fastest option, and the cheapest option. You can choose your way of traveling based on your actual needs.
9. Exchange Rate
This is a very self-explanatory and easy-to-use Alipay mini-app.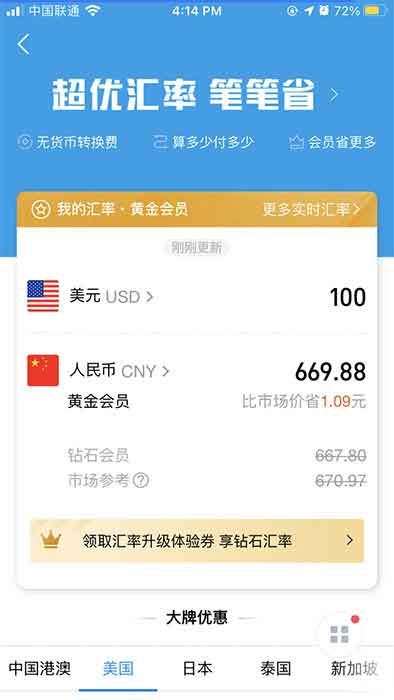 With this app, you can check the real-time exchange rate between two currencies at any time.
You just have to choose the targeted currencies and edit the amount in one of them, and you will see the amount in the other currency.
All the above mini-apps can be found in the Alipay app list, while some of them are still in Chinese for now even if you set your language in English.
So, you might need to download a dictionary or a translate app on your phone to fully utilize these mini-apps on Alipay. Hopefully, Alipay will release an updated version to fix this issue in the future.
Answers for Commonly Asked Questions about Alipay
Further information about how Alipay works is included in this Q&A section, try and find if there is anything you need.
The End
Thanks for your reading, if you find this article useful, please feel free to share it with others. If you have anything to say or any questions after reading, please leave a comment below.
We are Jingsourcing, a leading sourcing agency in China, dedicated to helping our clients to source products from China with the most competitive prices. If you are interested in importing from China or dropshipping from China, please feel free to CONTACT US.