1. Professional in truck parts industry
The major China truck brands include Sinotruk, Shaanxi Shacman, CAMC Hualing, FAW and Hongyan, etc. Truck manufacturers have many factories which produce spare parts for them. They sell original spare parts themselves, and also distribute the spare parts factory resources to Chinese spare parts dealers to authorize them to operate.
At the same time, they authorize the dealers to use a special parts online data system, so that the dealer can check the Part NO. and original price for each part of the truck through the chassis No.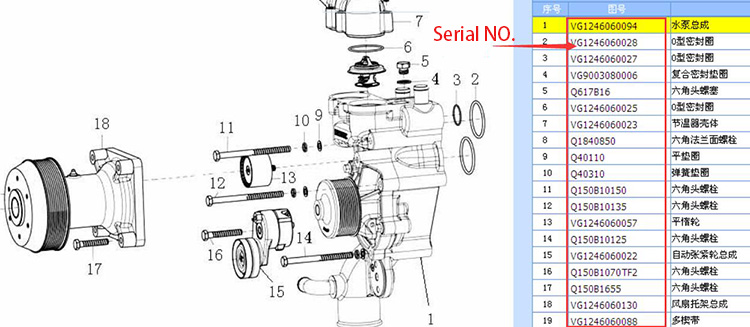 And then, I would say, not all truck parts companies have the ability to export accessories. There are three reasons,
The configuration of trucks varies from country to country, so the corresponding parts are also very different. Maybe you need to purchase the Euro IV engines, instead, what he recommends to you is Euro II engine that is used by Africans.
There are thousands of parts on one truck. In order to answer users' questions and provide appropriate parts at any time, a professional supplier needs to have sufficient maintenance knowledge and supply chain system.
They have professional salesmen to help you to successfully complete many steps such as quotation, preparation of goods, ship booking, customs declaration, document-making and so on.
2. The prices for original, OEM or copy parts
There are 3 types of truck parts in China for these brand trucks, such as Sinotruk, Shacman, etc.
Original and OEM prices are the highest, some buyers from these countries, like Africa, Russia, and Vietnam, and they want to buy some truck parts for their own use, so they prefer to buy the copy truck parts. If someone wants to become a dealer of original and OEM parts in these countries, it's difficult for them to sell the original and OEM parts at a high price. As a result, there is no room to survive for the dealers.
Although the copy parts are cheaper, their quality also varies greatly. So you should be careful when buying them. 
For self-use buyers, if they buy parts only considering the price and choose the parts with extremely poor quality, it will certainly cause damage to the truck and you may need to replace the parts frequently. 
For overseas dealers or repair shops, it is possible to lose the trust of customers.
Such as the FUEL INJECTOR ASSEMBLY (Serial Number: VG1560080276) for Sinotruk, its original price is $35.5 and copy price is $8-$21. For a longer life for the engine of truck, I advise you to buy original parts, instead of just buying the copy parts due to its the cheapest price. If you really want to save money, you can also buy cost-effective copy one. And before you purchase copy parts, you must do an in-depth investigation and researches to find a reliable supplier.
3. Offer good quality parts at a fair price
The quality and price of parts vary greatly. I have summed up the following five parts details to help you to identify whether the quality is good or bad and whether it is worthy of your cost:
Check whether the protective layer of the product is intact.
Look at the surface to check whether it is corroded and rusty.
Check whether the product is damaged and deformed.
Check the flexibility of the rotating parts by hand.
Test whether the hardness of the parts meets the standard.
4. Offer good service
One truck has thousands of parts. Maybe all you need is one of these parts, or sometimes you are not sure about the Part Serial No. Many salesmen of suppliers feel that your order is too small and troublesome, they're not willing to serve you.
But a salesman of a good truck parts company should be polite and professional, he is willing to serve you even if you buy a small number of parts. Or even if you don't have experience, they will patiently explain to you about the types of truck parts and maintenance knowledge.
According to your needs, they will formulate the most cost-effective procurement plan for you, including a suitable price and good quality. They treat you like a long-term customer in the future.
5. Own good factory resources
Quality and price depend on the supplier's supply chain system. Thousands of parts have tens of thousands of truck parts manufacturers accordingly. The selection and control of manufacturers are one of the most important capabilities of a supplier. A reliable supplier can provide you after-sale parts with the best quality and the most reasonable price.
If you want to wholesale truck parts from China, you can come to China in person and check the supplier's capability, including their experience, warehouse, customer base, upstream supply chain, etc. If you are looking for a truck part supplier online, you can use trial orders to select the supplier you can work with.
I want to hear from you
It is easy to find a truck parts supplier in China, the key is how to identify whether the supplier is reliable. Whether you are a dealer in truck parts or just buy parts for your own use, as long as you have any questions about the post or want to know more about Chinese truck parts, let me know by leaving a comment below or feel free to contact us!