When you search teeth whitening light manufacturers online, hundreds and thousands of vendor information will come to you. Particularly, all suppliers on Alibaba claim that they are factories. Then came the question, Who are the real manufacturers?
"If the registered capital on the supplier's business license is large, must it be the factory ?" Some of my clients always ask me this question.
Let me tell you, this is wrong!
Just check the registered capital of the supplier's business license, you can not distinguish the supplier to be the factory or trading company.
Of course, a big scale factory has a large registered capital. But if the registered capital is small, it is not for sure that the supplier must be a trading company, because many small factories' registered capital is also small.    
Today, I will teach you how to identify a real factory by the following 10 aspects:
1. Check the business scope of the supplier
Check if it contains the word "production" within the business scope of their business license and if so, it must be a factory.

2. Check the CE, FDA qualification
CE and FDA are indispensable qualifications for exporting whitening teeth products to European and American countries.
If a manufacturer has been producing whitening lights for many years and has accumulated many clients, he must have the CE and FDA. 
Although many trading companies also apply for these two qualifications, they don't apply for CE and FDA for every product (trading companies always handle a variety of products).
They usually use their factory's FDA and CE to export products.
3. Check their production line
A true manufacturer must have one or more production lines to complete product assembly, packaging and other procedures.
4. Check if they have injection molding machines and metal molds
Every year, manufacturers need to help many clients to develop new teeth whitening products. After finishing the design sketch, the first step is to open metal molds, and then the injection molding machine is needed. How can a teeth whitening product be made without molds and injection molding machines? So the mold and injection molding machine are important standards to distinguish whether it is a manufacturer or not.
And some other suppliers claim that they are the manufacturers, but their molds and injection molding machines all come from outsourced factories, these kind of suppliers are also trading companies.
5. Check if they have SMT factory
An SMT factory specializes in making circuit boards, and the teeth whitening lights need a circuit board. So, a real teeth whitening light factory needs to cooperate with an SMT factory. Check if the supplier works with an SMT factory, you can judge the strength of this dental care factory and the ability of cooperation and control.
6. OEM, less MOQ
A few years ago, many small importers wanted to customize 500 PCS teeth whitening light, if the price and quality are suitable, they will reorder 5000 PCS. I bet most of the teeth whitening light suppliers will tell you that MOQ is too low.
What do you think? If someone has a higher MOQ, must he be a factory?
It is not always like this. In recent years, as competition increases, something will be changed. When you inquire if it is possible to customize 100 PCS teeth whitening lights, some trading companies may not accept your inquiry, but real manufacturers can accept such order. If you don't believe that, please inquire ioralcare, they will give you a reasonable answer.
7. Good quality, delivery on time
If a factory has been working on a product category for years, their rich experiences can make production finished on time and control quality well. 
However, trading companies operate a variety of product categories, and they cannot handle the products they are not familiar with well, which may lead to the delay of delivery and bad quality products. So, when you source whitening light suppliers, you can ask some questions related to dental care products to test their expertise.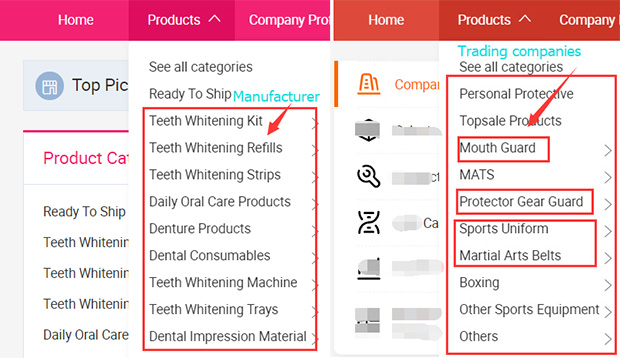 8. Check if there is a stock of regular whitening lights and semi-finished lights
If you want to visit a dental care factory, you can check out their warehouse first. Generally, there are lots of semi-finished light materials, raw materials for mouthguards, such as TPE and EVA in their warehouse. Trading companies only have finished goods in their warehouses.
9. Check their product categories
If a supplier has only one or a few products in a product category, then it's more likely to be a factory. But if a supplier has dozens and hundreds of different kinds of products in different categories, then it's more likely to be a trading company.
10. Check suppliers' location
Suppliers' location can help you make judgments. Generally, most of the factories are located in the outskirts of the city or some industrial clusters. They cannot be located in the Central Business District of a city.
Now it's your turn
Have you ever found a dental care factory in China? Or are you thinking about starting this business?
Or you can share your story in the comments section below. 
If you want to find teeth whitening products factory in China, feel free to contact us, I will answer your questions at any moment. We already help many USA and Europe customers produce many high quality and inexpensive productions.