By Sarah Whedon, Content Marketing Manager, Teikametrics
If you're importing products from China and selling them on Amazon, then you know that sourcing the products is only one aspect of running a successful Amazon business. You need to think about things like inventory management, fulfillment, listing quality, customer service, accounting, and advertising.
Just like you want to have a trusted advisor to help you understand all the ins and outs of importing from China, you need to have a reliable source of information about advertising to ensure that you are making wise decisions with your advertising spend.
To give you a head start, we've put together 5 things you must understand before you start advertising on Amazon.
1. Amazon is pay to play
The hard truth is that for your products to be discovered on Amazon, you're going to have to utilize advertising. Amazon heavily weights sales history and velocity for its organic search results, and across just about every category, many sellers will have a big head start.
Keep in mind that 70% of Amazon shoppers only ever look at the first page of search results. That's according to Amazon's own research. It's a statistic that means that you can't afford to show up only on page two or worse. To get onto that first page, especially with a new offering, you're going to need to pay to play the Amazon game.
In the screenshot below from Amazon.com, you can see that a search for "cookies" turns up entirely sponsored ad placements above the fold. The Tates result is a Sponsored Brand ad and the other four are all Sponsored Products placements (more on the distinction between ad types below). A shopper will have to choose to scroll past these to discover any results that are not paid for.
In the past, it may have been possible to arrive as a newcomer to Amazon and find a place for your products without advertising. Those days are fast fading in the rearview mirror.
While it may require a crimping of margins, or taking on extra capital initially, you need to allocate a sizable budget for advertising as part of your business plan. Don't think of advertising as an additional expense, think of it as part of your operating budget, just like the cost of shipping.
2. You need to get your products retail ready
Advertising is how you get shoppers to discover your products. If people click on your ads, they are directed to your Product Detail Pages (PDP).
However, advertising won't drive conversions unless shoppers find something clear and appealing when they get to a PDP. If those sales don't come, you also won't get the reviews and ratings you need to compare favorably to competitors over time.  
This is why, before you start advertising, you need your products to be retail ready. In short, retail readiness requires optimizing listings so the text is clear, thorough, and speaks to consumer needs. Images should be compelling and informative. This goes hand-in-hand with having plenty of reviews on your product. You also need to have a solid inventory management plan so you're unlikely to either stock out or run into long-term storage fees.
Skimping on any of these aspects of your offering will damage the effectiveness of your advertising program, lead to wasted advertising spend, and ultimately slow growth for your business.
3. Amazon offers several ad types
Amazon actually offers several ad types to sellers and brand owners. Getting to know these different ad types will help you prepare to advertise your products, as well as help you to understand how your competitors are advertising.
The foundational ad type on Amazon is Sponsored Products. It's a PPC (pay-per-click) ad type that gives your products an advantage in Amazon shopper search results. You can set up and run these ads in Seller Central. If you are a brand selling on Amazon, you must use Sponsored Products in order to be competitive.
Amazon also offers Sponsored Brands ads, including Sponsored Brands video, which allow registered brands to capture a banner-style top-of-search placement with additional marketing verbiage. This ad type is also available in Seller Central.
An ad type that we see growing exponentially is Amazon's DSP. This is a top-of-funnel, brand-building and retargeting ad type that makes the most sense to utilize when you're seeing diminishing returns from the search-focused ad types above.
4. It's best to plan ads based on goals
When you're ready to start planning out your advertising, it might be counterintuitive, but it works best to start with where you want to end up. Knowing your goals for your ads is the best way to determine what types of ads to run and how aggressively to bid on those ads.
At first, the goal for a new product or new ad will be to successfully launch. At this stage you'll need to understand that you'll be spending more than you would in a campaign with a goal of profitability. Because you're trying to capture the attention of shoppers on page one without a deep sales history, you'll need to bid higher to capture those placements, convert sales, and grow the reviews and ranking that will enable you to shift toward the second stage, which is growth. At this stage you can begin to pull back on spending while maintaining sufficient fuel to continue driving growth.
Eventually, the goal is to arrive at a profitability stage where hopefully your product will live for the longest. This is when it's got enough momentum that advertising is more for maintenance and brand defense on key terms than for further boosting sales velocity. At this stage you want to establish bids with the goal of profitability.
Sometimes a product or an ad needs to have a goal of liquidation, where you need to cut your losses and spend what it takes to sell through old stock. Whatever stage a product is at in its lifecycle, identifying your goals is a necessary prerequisite in setting up ads that can meet those goals.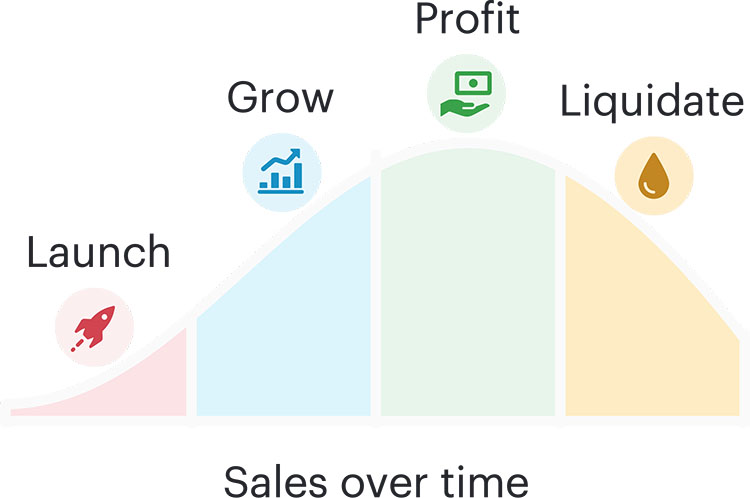 5. Using AI to optimize ads will give you an advantage
Amazon is constantly changing. Competitors come and go, they change their advertising strategies, target your lucrative keywords and pull back from them. Shopping behavior changes as well, based on seasonality, current events, or consumer trends.
It's possible to manage Amazon ads by using only the Seller Central interface and spreadsheets to help you calculate bid changes and upload large or complex campaigns. This manual approach is time consuming, inefficient, and leaves you at a competitive disadvantage.
We know sellers who set aside hours each week just to handle this one aspect of their business and still aren't achieving the full efficiency from ads that they know they can. Entrepreneur Ryan Goldstein talks about encountering this very problem as he was launching Air Vinyl in his ebook Ryan Goldstein's Ecommerce Brand Launch Story.
In order to keep up with the changes in the marketplace, and to refine campaigns as quickly as possible, you need to assess and potentially change bids and keywords very frequently.
Access to an artificial intelligence (AI) tool can give you a major competitive edge. The best results are achieved when bidding is automated, and not by simple rules, but using sophisticated machine learning that works toward the goals you set based on the data it gathers from Amazon.   
Sellers like you are using the data-backed AI of Teikametrics Flywheel to optimize their Amazon ads. Check out our full product features and sign up for a 30-day free trial. 
We, Teikametrics, provide an e-commerce platform + managed services to ensure every advertising dollar spent on Amazon & Walmart goes to what matters most: growing your business and increasing profits. Join the waitlist to apply for early access and receive updates and content regarding Flywheel 2.0.