When you don't have a quality control checklist, your suppliers may miss some critical information about your product specs and quality standards. The result is usually receiving a product that does not meet your requirements.
But I bet you can avoid this problem by reading today's blog.
Why are quality control checklists important?
Quality control checklist is also known as quality inspection checklist, quality control form, and QC audit checklist. It is a written guide for products, packaging, potential defects, functions, and special requirements.
A quality control checklist is very important. On the one hand, it clearly defines your product specifications, providing a reference for suppliers so that they can accurately and quickly understand your product ideas, thus improving sourcing efficiency. At the same time, it also provides inspection standards, which can help reduce product defects.
On the other hand, this checklist can ensure that your product complies with regulatory requirements, avoiding rejection by customs or facing other restrictions. For example, if your toy QC checklist indicates that it has passed the EN71 certificate with CE marking, you don't have to worry about being stuck at customs, and you can also sell in the EU market.
Quality control inspection checklist template
Below is the first page of a quality control inspection checklist template for a Doghouse, provided by Insight Quality.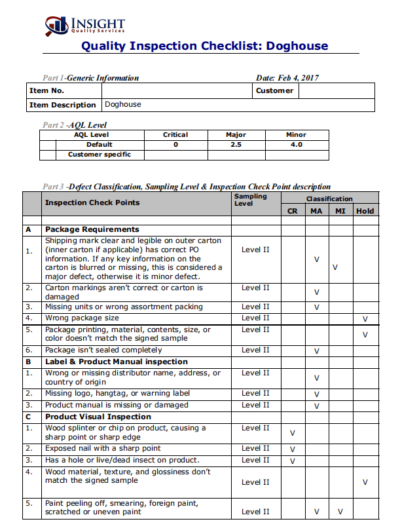 It clearly lists the sampling level (usually AQL Level), defect classification, and inspection checkpoint description.
When you want to construct your own quality control checklist, you can refer to this template.
Four aspects of a quality control checklist
The product is the main inspection content, including:
Material and construction
This part focuses on checking whether the materials used, such as wood, plastic, and metal, meet the quality standards and whether the product structure is sturdy, stable, and free of any defects or damage. At the same time, it is necessary to check whether there are any dangerous situations, such as sharp edges or wood chips, or debris on the product.
Weight and dimension
Here I take the doghouse for example. The main focus is on checking whether the product specifications meet the prescribed size and weight to ensure that the dog house is suitable for dogs of different sizes.
Color
The color of the product is usually verified by comparing it with a Pantone color chart.
Labeling and markings
This part focuses on checking whether the labeling is clear, accurate, and complete and whether it complies with relevant regulations and standard requirements, such as CE marking, UL certification, etc., to ensure the safety and reliability of the product's quality.
Packaging inspection is also very important. Good and exquisite packaging can not only reduce the risk of damage to the product during transportation, but also help promote your brand and attract consumers.
Packaging appearance
The key point of checking the packaging's appearance is to verify whether it is sealed, deformed, or damaged. In addition, to better fix and protect the goods, you need to check whether there are additional protective measures, such as fixing multiple boxes with pallets and wrapping film.
Labeling requirements for cartons
You need to observe whether the outer packaging has shipping marks, weight, and volume marks, certificate of origin, as well as indicative and warning signs (if necessary) and whether they are clear, legible, and accurate.
Materials for packaging
Different products may have different packaging requirements. Therefore, it is necessary to confirm whether the packaging materials are appropriate according to the actual situation. For example, fragile or perishable goods may require additional cushioning pads or silica gel desiccant packets to keep them fresh throughout the entire transportation process.
Packaging regulations
Different countries have different packaging regulations. Therefore, it is necessary to ensure that product packaging meets these requirements. For example, products packaged in plastic bags must be shipped to the U.S. with small holes and choking warning labels.
To ensure compliance with standards, your product or packaging may require certain tests, several common including:
Drop test for carton packaging
Moisture content test (for wooden products such as furniture)
Vulcanization test (for rubber products, especially footwear)
Functional testing (for mechanical and electronic products)
The quality control checklist needs to classify defects, indicating the number of defects and your tolerance for these issues. It can be divided into critical, major, minor, and hold.
Here I take the quality report from the doghouse above. Some flaws in incorrect carton markings and damaged cartons are defined as major defects. This means that there is no danger to human safety, but it does not meet your quality standards.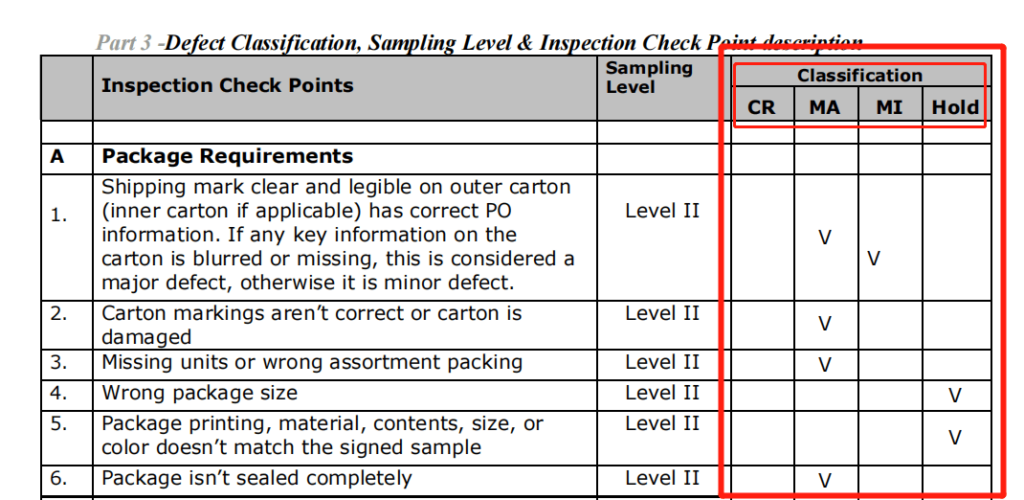 You can mention specific quality defects or other issues to the suppliers and tell them which ones you can accept and which ones are unacceptable. You can even provide photos and describe the acceptable degree of different problems.
JingSourcing can check your product and packaging quality
Provide professional and flexible product QC services
We have our own warehouse and professional quality inspectors, and can provide QC services according to your requirements. Both general inspection and full inspection are acceptable.
Furthermore, our inspection service is very flexible. Before the inspection, we will communicate with you to understand your requirements and focus points. We will not count some minor defects into defective rates. We can also communicate with you through video, which is more intuitive than pictures and text. In addition, if you have additional requirements, such as increasing the number of product inspections from 300 to 400, we can also do it.
Offer various packaging options and services
We can also provide packaging QC services for you during the product quality inspection process. If the packaging is deformed or even broken, we can replace it for you. In addition, we will confirm whether the shipping marks and other marks are present and clear.
Furthermore, we can select the appropriate packaging method based on your cargo types.
For example, for common general cargo without special packaging requirements, we use standard export cartons made of five-layer corrugated paper, and fill the gaps with waste paper or polystyrene filler to fix the goods in place. If your goods are special cargo such as liquid, we will seal the bottle mouth with two layers of film to ensure that the liquid will not spill, and wrap it tightly with bubble wrap.
Accept product certification and packaging testing
We will ensure that your product complies with the legal regulations and safety standards of the target market.
For example, if you need to import electronic products to the United States, we will help you find suppliers who can provide FCC and UL certifications, ensuring that your products can smoothly pass customs clearance and be sold in the US market. You can also contact us to help you test the functionality of your products, such as testing whether the buttons, screen, connectivity, and charging are working properly.
In addition, if you have special requirements for packaging and need drop testing, we can arrange that as well.
Contact Jingsourcing for Product and Packaging Inspection