Product certifications are necessary for normal sales, and some sales platforms, like Amazon, have strict regulations on product certification. But different countries and markets have different requirements on certifications for each type of product.
For example, the FCC certification introduced in this post today is required in the USA market. Whether you're new or experienced, knowing what the FCC certification is, how to make and obtain FCC certification will help you sell your products well, to avoid the case that your product cannot sell due to lack of this kind of certification.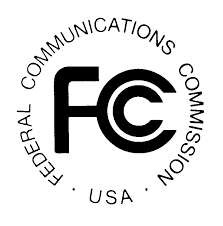 Before knowing what the FCC certification is, you should learn about the FCC.
FCC stands for the Federal Communications Commission, an official subsidiary organ of the United States federal government. It is an independent agency to regulate interstate and international communications over radio, wire, television, satellite, and cable in about 50 states, territories of the USA and the District of Columbia.
What is FCC Certification?
FCC certification, also the United States Federal Communications certification, is a compulsory certification in the USA. It is mainly testing the security of wireless products and wired communication products.
Any product, especially electronic communication products, is required to make FCC compliance testing and get the FCC certification through FCC approval if it enters the USA market. In other words, the certification is that laboratories directly or indirectly authorized by the FCC test and approve these products according to the technical standards of the FCC. It does not require factory inspection, and the application process is simple.
  In short, the features of FCC certification are:
Necessary for exporting to the USA
Compulsory
For electronic or electrical equipment/ products
Easy to apply without testing factories
How to Make FCC Testing and Obtain FCC Certification?
After the definition of FCC and FCC certification, you must want to know the concrete process of getting the certification. Before the certification process, you need to be clear about FCC testing types.
Generally, FCC compliance testing is mainly divided by product type and some are named the following for your reference:
FCC Part 15 and FCC Part 18 (the most widely used),
FCC Part 22 (Public Mobile Services),
FCC Part 24 (Personal Communications Services),
FCC Part 27 (Miscellaneous Wireless Communications Services)
You can also check more type regulations for your product on its official website.
Two Types of FCC Certifications with Concrete Processes
Then you need to make sure which type of FCC certification is required for your products.
Before, FCC certifications included three types:
FCC ID,
FCC VoC (Verification of Conformity),
FCC DoC (Declaration of Conformity),
But since November 2nd, 2018, FCC SDoC (Supplier's Declaration of Conformity) replaced FCC DoC and VoC to make certifications, in order to simplify the FCC certification process and clarify the usage specification of RFID (radio frequency identification).
FCC ID is mainly certificated for wireless products, and FCC SDoC certificates for general products without wireless functions, so requirements for each type are different.
Then the next part will tell you how to obtain the certifications step by step.
As I mentioned above, FCC ID certification applies to wireless products to test EMC (electromagnetic compatibility) and RF (radio frequency), like Bluetooth headsets, and smart face slimmers.
There are two methods for you to apply for an FCC ID certification:
1. Send products to FCC-TCB directly, but it costs a lot with unpredictable time.
2. Select the third-party institution authorized by FCC to test products and send materials to TCB for issuing certificates.
The first choice is not advisable, and we will list the process of the second method in the following part.
If you're applying for the FCC ID for the first time, you should register an FCC-FRN to create profiles and apply for a permanent grantee code, and the cost of this code is $60.
Then you can check your FCC ID on the FCC official website: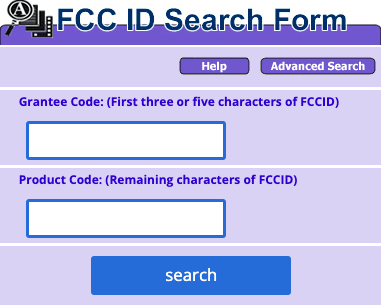 Undoubtedly, you cannot test the product on your own, so you need to select a reliable test institution or a laboratory authorized by FCC to finish FCC testing.
When waiting for FCC approval to send the grantee code to you, you need to send product samples with documents and files to the institution or laboratory for testing your products. Then the institution will provide a test report for you.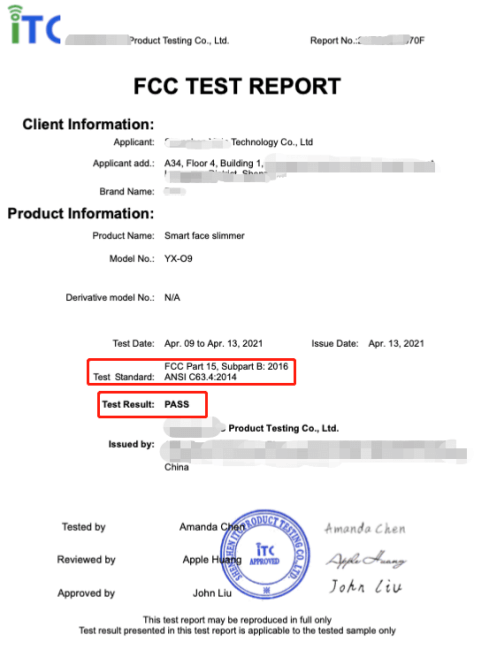 When testing and getting test reports from the institution, you need to submit all product documents with test reports to TCBs (Telecommunication Certification Bodies) appointed by FCC, waiting for TCBs to audit.
Don't forget to prepare the following:
Application form of FCC certification
FCC ID label and label location
Photos of product details (internal and external)
Product introduction
Block diagram
Schematic diagram
Operation theory
Test reports
Product test setup photos
After confirmation, TCBs (getting FCC approval) will issue the certifications and then you can get the certificates within several weeks.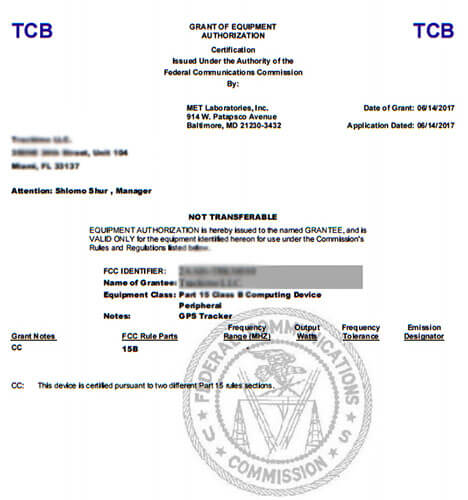 If your products are not equipped with wireless functions, you just need to obtain FCC SDoC certifications.
Different from FCC ID, SDoC requires you that the responsible party for your products and their mailing address as well as email address are in the USA to test the products. It means only USA companies can issue SDoC statements, while non-United State companies (including manufacturers and laboratories) cannot.
When products are exported to the USA, customs will require you to provide FCC SDoC statements based on the laws and regulations in the clearance process. Online platforms, like Amazon, will also require sellers to upload FCC SDoC statements.
The certification process of FCC SDoC is similar to FCC ID certification:
Step 1: Fill in the application form
Step 2: Provide product details
Step 3: Send product samples
Step 4: Test products and get reports
Step 5: Submit all materials and test reports
Step 6: Wait for approval and issue certificates
Find Jingsourcing to Help Obtain Your FCC Certification
Find Jingsourcing to Help Obtain Your FCC Certification
How Much does FCC Certification Cost?
Except for the basic certification process, a question most clients concern a lot is the cost of FCC testing and certification.
Actually, there is no absolute single standard for the cost and the total FCC certification costs depend on the FCC testing types of your product.
Besides the testing types, charging standards vary from countries and third-party detection institutions. The costs depend on radio technology and required testing numbers covered by the laboratory.
How Long does it Take to Get FCC Certification?
The average time to get the certification from FCC officials is between 8 to 12 weeks, but now to shorten the waiting time, FCC has authorized many third parties to issue the certification so that you can receive FCC certifications within 1 to 2 weeks. But you should pay attention to selecting reliable institutions to get legal ones.
FAQs about FCC Certification
What to pay attention to when satisfy FCC certification requirements?
One of our clients sells a wireless product (smart face slimmer) on Amazon and uploaded FCC certifications required by the platform, but he always failed to finish uploading because he only had the FCC test report from the third-party detection institution. Our sourcing agent Lily helped him make clear that his product was required to provide FCC ID certification (mentioned in the third part above), while only the FCC test report cannot meet the requirement.
Hence, if satisfying FCC certification requirements, you must be clear about what category of your products is and which kind of certification is required, then follow the procedure to complete the certification, in case of money and time in vain.
What products need to get FCC certification?
If you sell certain types of products in the USA market, you should satisfy FCC certification requirements and get the certification. To make you clear about whether your products need FCC testing or not, this part will list the most general types of products within the certification range for your reference:
Personal electronic products and devices (like computers, keyboards, power adapters);
Household electric appliances (like air-conditioners, refrigerators);
Electric power tools (like electric drills);
Audio and video equipment (like radios, DVD players);
Various types of lights;
Wireless products(like Bluetooth wireless headsets, wireless remote control);
Different kinds of toys (e.g. Electronic toys);
Security products (like alertors, cameras);
Industrial mechanical machines & equipment (like machine tools).
Who can provide FCC certification services?
Generally, FCC can provide certification services, but as mentioned above, it takes a lot of time and costs. So the third-party detection institutions getting FCC authorization can provide extra FCC testing and test reports while charging differently.
According to the FCC certification requirements of your products, you should pay attention to whether their services match your requirements or not, and not be deceived by their prices.
What are the Benefits of FCC Certifications?
This certification will help sellers access a broader USA market, and make more customers believe your products.
It provides legal rights for your products to sell in the USA market so that they will not be considered public health risks.
It shows your products are tested and certified to gain a competitive advantage of your products.
The End
We hope this article helps you understand FCC certification better. If you want to know more about product certifications, you can find other articles on our website:
We're Jingsourcing, a leading sourcing agent in China. If you need product certification but don't know how to obtain it, or you want to import or customize products from China, please CONTACT US without hesitation!