As the options for sustainable organic clothing become more widespread and popular, GOTS certification can enhance the marketability of your products, particularly in eco-conscious consumer markets.
You might have seen GOTS on your clothing label, so what exactly is it? Let's take a look.
What are the characteristics of GOTS-certified products?
GOTS stands for Global Organic Textile Standard. It is an international standard aimed at ensuring that textiles meet strict organic and environmental standards throughout their entire production process.
GOTS-certified products generally have the following four characteristics.
Organic fibers must adhere to the following key elements. These elements ensure that textiles, from production to the hands of consumers, meet stringent environmental standards.
The production of organic fibers must comply with the certification requirements of the International Federation of Organic Agriculture Movements (IFOAM) standards series.
Throughout the cultivation of organic fiber crops such as cotton, the use of synthetic pesticides (such as insecticides) and herbicides is prohibited. This ensures the purity and sustainability of the fibers.
Textiles bearing the GOTS label must contain a minimum of 70% certified organic fiber. Products labeled as "organic" must consist of at least 95% certified organic fiber.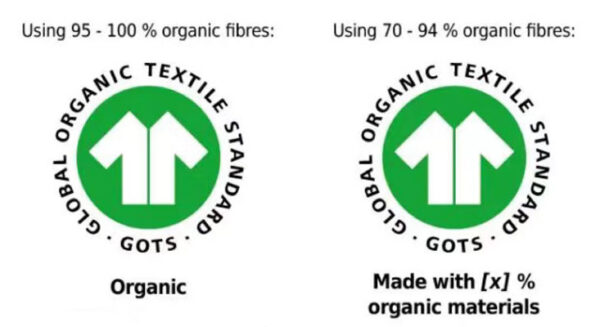 GOTS products are free from a range of harmful chemicals, including toxic dyes, heavy metals, and other substances that could be detrimental to both the environment and human health.
Additionally, during the production and processing stages, efforts are made to minimize water and energy consumption as well as address waste management issues, thus reducing the overall environmental impact.
The social criteria of GOTS encompass social responsibility and labor rights within the textile production process. These standards require adherence to international labor rights norms within the production process, including the prohibition of child labor, lawful employment, a safe working environment, and fair wages and benefits.
Certified products can carry the GOTS label, which signifies their compliance with the standard. Different label grades (e.g. "Organic" or "Made with X% Organic Materials") indicate the percentage of organic content in the product.
What's more, GOTS imposes strct restrictions on packaging materials. For instance, the use of polyvinyl chloride or chromium is prohibited, and plastic cannot be employed as labels or fillers.
What products need GOTS certification when importing?
For importers, business involving GOTS certification primarily encompasses products related to textiles and clothing, especially those emphasizing organic and sustainability aspects.
Organic Fabrics: Fabrics and raw materials are made from organic fibers like organic cotton, organic linen, organic wool, etc.
Organic Clothing: Garments, scarves, gloves, etc., made from organic textile fabrics.
Home Textiles: Organic cotton bedding items such as bed sheets, duvet covers, pillowcases, as well as organic linen curtains, tablecloths, etc.
Baby and Children's Products: Organic baby and children's clothing, blankets, diapers, etc.
GOTS-certified products typically display the logo on labels and packaging. To ensure authenticity, you can request relevant documents and proof of GOTS certification from suppliers and verify them in the official GOTS database.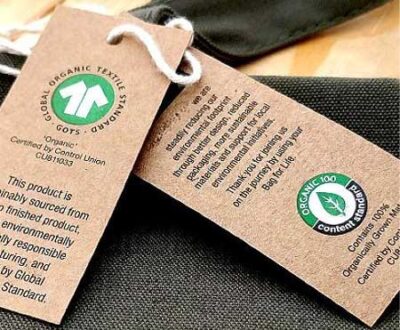 How to get a GOTS certification?
If you're importing organic textiles or other products, you can directly contact your supplier to request the GOTS certification, and they will assist you with this process.
However, if the supplier's certification has expired (valid for 1 year) or they have never applied for the certification, they need to get in touch with a GOTS-approved certification body, submit an application, and provide detailed information about their factory or product for the audit.
The audit process comprises two stages: an on-site factory audit and a document review. The former assesses the production process and the duration varies based on the factory's size, ranging from a few hours to a few days. The latter examines the conformity of supply chain records and production processes, which might take several weeks.
If the products and processes adhere to GOTS standards, the certification body will grant the certification, and the results will be documented in the public GOTS database. The certification label can be used on product labels and promotional materials.
Certification costs can vary significantly due to multiple factors, including company size, product range, and geographical location. It typically encompasses application fees, audit fees, and potentially travel expenses (if on-site audits are required).
Roughly estimated, entities with one facility can expect an annual certification cost ranging between 1,200 and 3,000 euros. In addition, each certified entity is also required to pay an annual fee. The cost for each facility inspection is 150 euros.
GOTS certified vs OEKO-TEX
Both GOTS certification and OEKO-TEX certification are relevant to the textile and clothing industry, but they emphasize different aspects.
GOTS certification places a stronger emphasis on the sustainability of the production process, encompassing both environmental and social standards. On the other hand, OEKO-TEX certification focuses more on the safety of the final product, ensuring that textiles are free from harmful substances. Companies can choose the appropriate certification based on their priority areas of concern.
As a leading sourcing company in China, JingSourcing has helped 4000+ importers source and customize products. Among them, many customers come to us to import GOTS-certified T-shirts, curtains, tablecloths, diapers, and other products.
We have been collaborating with several manufacturers who have obtained GOTS certification for many years. So we can secure competitive prices from them. By choosing us, you can ensure a consistent and reliable source of suppliers and products for your environmentally-friendly business.
Get Competitive GOTS-certified Products