A table or desk is essential in our daily life, work, and studies. It's important to know what materials make a good tabletop, whether you're purchasing for personal use or considering customizing various tables for a resale business. Let's delve into it together.
Fiberboard is a type of engineered wood made from wood fibers. It's a cost-effective choice, although not the most durable surface. There are 3 different densities:
Low-density fiberboard (particle board or chipboard)
Particle board consists of wood chips that aren't tightly pressed together, resulting in a lighter weight. It doesn't splinter and is relatively easy to cut. This is the preferred material for cheap desks. If you're on a limited budget and not aiming for high-end desks, it would be a practical material option.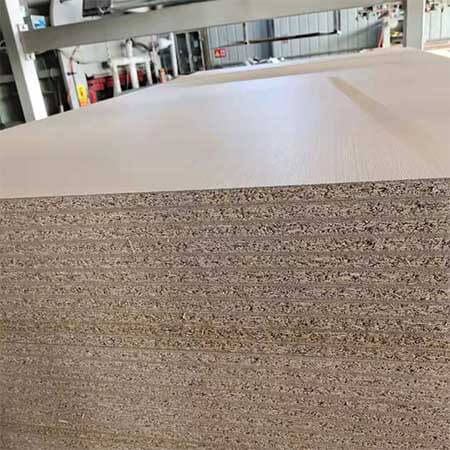 Medium-density fiberboard (MDF)
Differing from particle board, MDF is composed of smaller wood fibers, slightly heavier. However, MDF works not so well on screws as particle board. MDF generally has a density of 600-800 kg/m³ and comes in thicknesses of 2-30 millimeters. It's familiar to us, for example, picture frame backings.
Similarly, MDF is a fairly sturdy material with excellent stability and strong resistance to bending. The panels have a smooth and refined appearance. They're often painted for a comfortable surface feel. Note that MDF can absorb moisture rapidly. If you spill a glass of water on it, it can swell and deform beyond recognition, leading to sagging.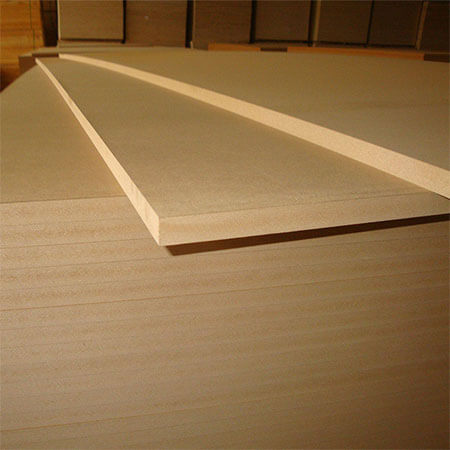 High-density fiberboard (HDF)
High-density fiberboard is extremely uniform and lacks visible texture. Made from tightly compressed exploded wood fibers, it possesses a density exceeding 800 kg/m³. HDF surpasses both particle board and MDF in density, resulting in greater strength and hardness.
For the desks of regular employees, using engineered wood materials is a cost-effective choice. Particle board is often covered with a layer of veneer, giving it the appearance of hardwood. On the other hand, solid wood executive desks and high-end conference tables look more upscale.
Solid hardwood has always been one of the most exquisite and beautiful choices for desks. Its natural grain looks exceptionally authentic, exuding a vintage and fashionable vibe. For instance, wooden dining tables appear more aesthetically pleasing and upscale.
Desks made from solid wood materials offer the benefits of safety and environmental friendliness. When buying study desks for children, opting for solid wood is a priority. Additionally, these desks have a longer lifespan. If scratches or imperfections arise, wood can easily be repolished and refinished. Applying paint can protect the wood, but proper ventilation is essential and requires ample time for drying.
However, solid wood desks are expensive. There's a wide variety of popular solid wood options on the market. Walnut is more expensive than maple, and maple is pricier than oak. Oak and maple generally have lighter colors, while walnut tends to be darker. When selecting a solid wood desk, you can get close and smell it—authentic wood materials are naturally eco-friendly and lack strong odors, instead emitting a subtle fragrance. In contrast, synthetic wood desks, often made from veneered particle boards, may emit a strong glue scent.
If you're aiming for a natural wood appearance but don't have the budget for solid wood, plywood is your best bet. This common engineered wood is created by bonding thin wood layers with adhesive. Plywood is easy to maintain. As for scratches and stains, polishing, sanding, and coating with a layer or two of lacquer can result in a fine surface.
But plywood tables are not so durable. And poor-quality plywood desks might contain excessive formaldehyde, which can be harmful to health. When selecting plywood desktops, it's crucial to pay attention to the environmental indicators of the product and opt for plywood tables produced with eco-friendly adhesives that have low formaldehyde emission levels.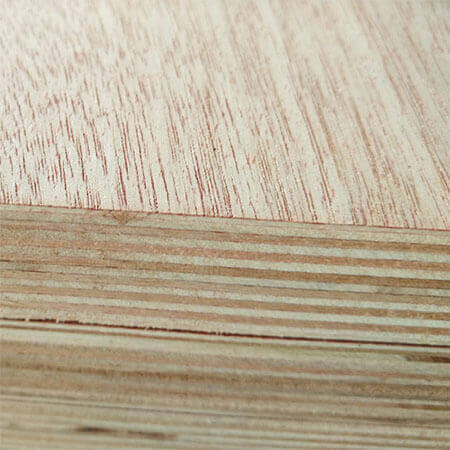 Bamboo is also one of the most common materials for tabletops nowadays, as it is relatively cost-effective and offers a durable and visually appealing surface. While bamboo isn't wood, bamboo tabletops possess an attractive natural texture, giving them the appearance of light hardwoods like white oak or maple. Bamboo surfaces are remarkably smooth and nice, but they are softer, more prone to dents or scratches.
To enhance strength, multiple layers of bamboo are stacked together. If excessive force is applied to the top or bottom layers of bamboo, or if they come into contact with hard objects, they can quickly separate and form layers.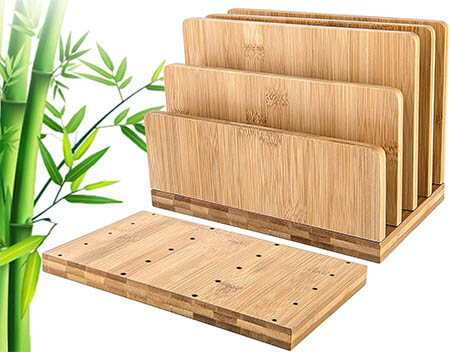 Another common tabletop option is laminate, a synthetic material that mimics hardwood. It's also a common material for flooring and even kitchen countertops. Laminate is hard and durable, capable of withstanding most scratches or dents. In terms of cost, laminate is generally on par with bamboo. However, being a synthetic material, it often lacks the same level of smoothness as other materials.
Glass tables offer a stylish and minimalist appearance. For instance, users appreciating a modern and minimalist style prefer a glass coffee table in the living room. Tempered glass computer desks look refreshing and are easy to clean.
Compared to hardwood desktops, glass ones often weigh a bit less, but are heavier than laminate or bamboo. Therefore, you need to ensure that the weight capacity of the table's frame can support the weight of the surface. Additionally, glass tables are not cheap. And remember to avoid uneven heating to prevent cracking.
When selecting a glass table, check if the desktop is even, transparent, and smooth. The edges should be straight, smooth, and free from dull angles.
A chemical polymer material primarily composed of methyl methacrylate. It comes in various levels of opacity. Tables can be fully opaque or completely transparent like glass.
Acrylic sheets are known for their silky smooth finish and attractive appearance. They are sturdy, easy to clean, alongside strong stain resistance, and good ability to withstand high temperatures. However, this material is relatively costly. Typically, it applies to reception desks, executive office tables, tea tables at home, etc., but not so often in public office spaces.

Metal tabletops inherently possess a certain degree of sturdiness and durability, coupled with high malleability and versatile designs. When purchasing metal tabletops, you'd better consider such factors as strength, durability, price, and aesthetics.
Here are 5 common metal materials:
Titanium metal applies widely in aerospace vehicles and other high-tech equipment manufacturing. Its strength surpasses that of other common metals like steel and aluminum alloy. Consequently, tabletops made from titanium metal boast exceptional durability and vibration resistance. However, titanium metal is expensive.
A quality titanium camping table with a portable burner can produce a spectrum of colors. The temperature shift in titanium metal corresponds to changes in color—around 500°C, it turns golden, followed by purple, and at approximately 600°C, it shifts to blue.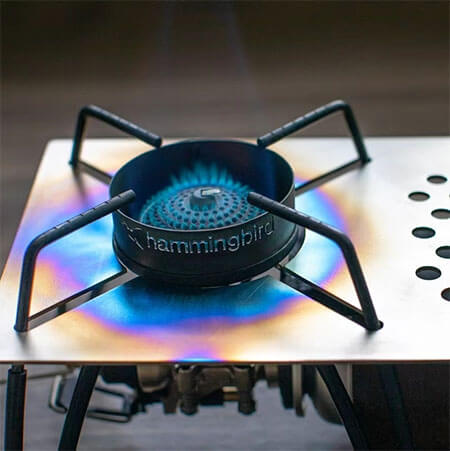 Stainless steel tabletops exhibit exceptional toughness, load-bearing capacity, and corrosion resistance, a preferred material for high-quality industrial-style tables. Stainless steel tabletops can withstand high pressure, elevated temperatures, and common wear and tear. Stainless steel barbecue tables are popular in Europe and America.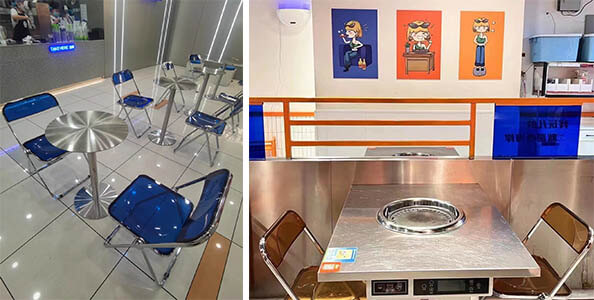 Aluminum alloy
is lightweight, with excellent wear resistance and tensile strength. Full aluminum desks are not afraid of outdoor exposure to sun and rain, exhibiting strong durability. Installation is relatively straightforward, and the price is reasonable as well.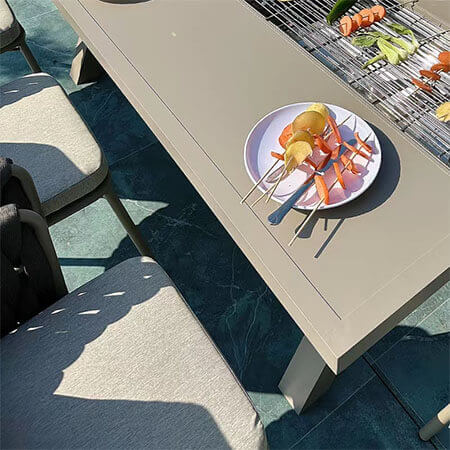 Steel tabletops boast high strength and durability, handling the daily challenges of all office and commercial environments. They are affordable but susceptible to rust. Coating with a layer of corrosion-resistant metal, alloy, or paint can help prevent rusting. For painted surfaces, remember to check whether it is evenly coated.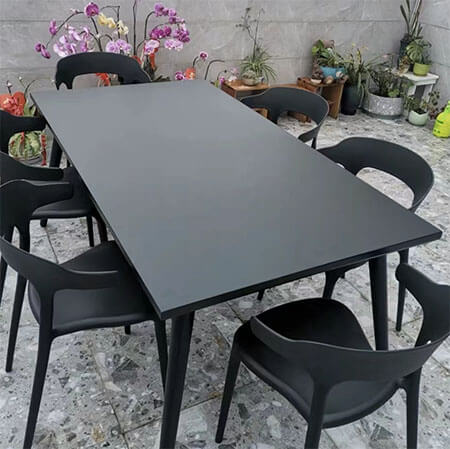 Brass
tabletops, due to their lower metal purity, have less tensile strength compared to stainless steel. However, their corrosion resistance is remarkably excellent, making them easy to maintain. Brass tabletops often have a transparent protective coating applied to the surface to preserve their aesthetic appeal and shine.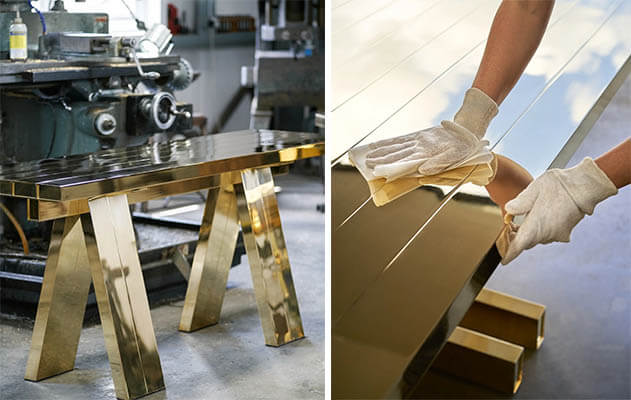 Stone materials used for desktops include granite, quartz, marble, etc. Marble tabletops feature intricate patterns that exude elegance and beauty, a favorite among consumers.
The advantages of stone desktops lie in their resistance to deformation, high hardness, and strong abrasion resistance. However, natural stone tables are generally expensive, and their weight can be quite substantial, challenging to move, and inconvenient for cleaning and tidying.
When selecting a stone desktop, you should pay attention to the appearance of the surface. Stone tables with consistent tones, minimal color variation, and attractive patterns offer enhanced decorative effects and relatively better quality.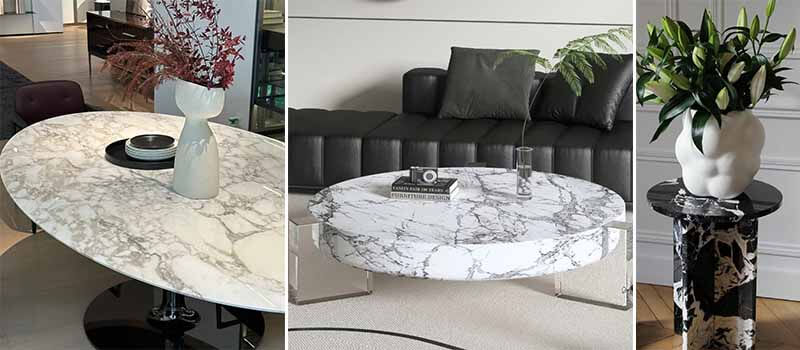 Commonly, plastic table materials are PP (polypropylene) and PE (polyethylene), while higher-quality plastic tables are crafted from ABS plastic or high-gloss-modified PP plastic.
Such tables are very cheap and lightweight, easy to move around. However, they often look not so high-end. Moreover, plastic tables have a limited weight capacity and are not suitable for holding heavy items, which reduces their practicality.
Consider the environmental friendliness of plastic tables when choosing. You can smell them up close to check for any odors, avoiding items with a strong odor.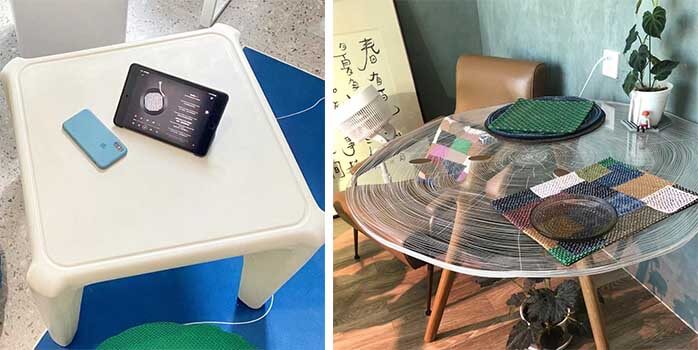 Melamine tabletop surface
Melamine is essentially a layer of paper. It's easy to print various patterns and designs, thereby adding variety and vibrancy to office desks. It is environmentally friendly and durable, boasting strong resistance against scratches. Additionally, this material possesses fire resistance, moisture resistance, and acid corrosion resistance. It's commonly used in conjunction with chipboard, referred to as Melamine Faced Chipboard (MFC).
When both sides of a desk are covered with melamine paper, proper sealing is essential. PVC material is the most common. Note that not all materials work for melamine paper sealing.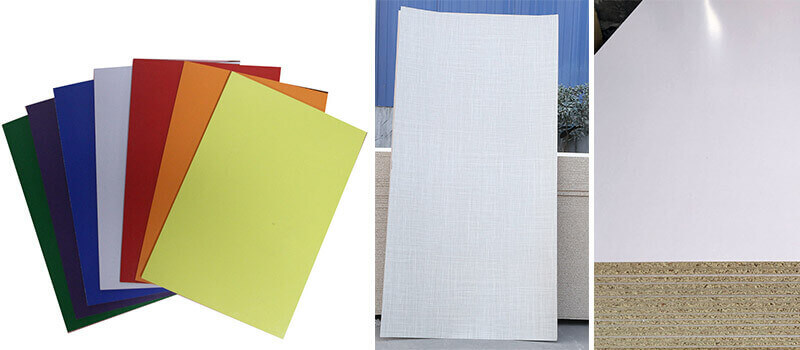 Additionally, desk edges are commonly made of polyurethane or ABS plastic. Polyurethane-encapsulated edges offer excellent wear resistance and strong resistance to sliding friction. They can withstand the majority of corrosive substances and organic solvents. On the other hand, ABS is an economical and durable option for desk edging material. It's an ideal finish for melamine-faced chipboard tabletops.
Balancing the cost and quality of desk materials is crucial for durability. Furthermore, the weight of the tabletop should be considered, as it relates to shipping costs.
As a leading sourcing company in China, JingSourcing has integrated quality suppliers specializing in desk manufacturing into our database.
For your custom desktop project, we can quickly find suitable suppliers for you and provide competitive quotes. We support desktops made of various materials of good quality and functions. Our professional agents will assist you in selecting the best printing methods to achieve your desired patterns in the most cost-effective way. And we follow up on production, inspect finished products and arrange shipments to your place at the best rates.
Customize stylish desks with quality surface