Diapers are absorbent paper or cloth pants used for babies or toddlers to keep them dry and comfortable. Whether you are buying them for personal use or planning to customize different diapers for a reselling business, you need to consider six key factors: absorbency, comfort, budget, fit, functionality, and ease of care.
In this blog post, we will explore 8 most common types:
Here's a quick overview of the pros and cons of each cloth diaper type, as well as when to use it. Then, you can find the best nappy type, based on your target consumer group's preferences and project budget.
Pocket cloth diaper/nappy
This is currently the mainstream choice in the cloth diaper market. The nappy consists of two layers: an outer waterproof PUL cover and an inner stay-dry layer. The common inner stay-dry layer materials include fleece, suitable for year-round use, and AWJ fabric, designed for a cooling effect, making it ideal for summer.
The standout feature of this diaper is the large pocket inside, allowing easy insertion of the absorbent insert. Additionally, there is a sleeve design that further facilitates the insertion of the insert, known as Sleeve Cloth Diapers.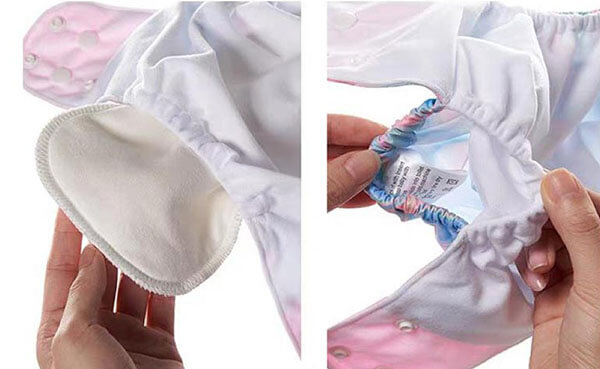 Pocket cloth nappies have several advantages. They are easy to use and the absorbent insert stays in place once inserted, providing a secure fit. They dry quickly, and there are various absorbent insert materials available in the market with good absorbency, reducing the chances of leaks. The stay-dry layer design helps keep the diaper relatively dry. Additionally, you can choose to use one or two inserts depending on the situation.
However, there are some drawbacks to consider. After each use, the absorbent insert needs to be removed for washing and then re-inserted once dry. This process might be slightly cumbersome for parents with larger hands, as they may find it a bit more time-consuming.
There are 2 types of closures for cloth diapers.
Adjust the diaper's waist and leg fit using buttons or snaps. Below Picture 1 is for your reference. Click to enlarge.
Allow for easy fastening and unfastening. Especially useful as babies grow and become more active, as it makes diaper changes quicker. However, when babies learn to open hook-and-loop closures, parents should be cautious as babies might remove the diaper. Below Picture 2 and 3 are for your reference. Click to enlarge.
Cloth diaper inserts types
Whether cloth diapers are good or not largely depends on the choice of inserts. There are 3 common types:
Dries quickly, has good moisture absorption and breathability, and offers sufficient absorbency. It retains its shape even after multiple washes and is easy to care for.
Offers slightly weaker absorbency compared to synthetic fabrics but stronger than pure cotton. It is a more natural and environmentally friendly material, safer for a baby's skin. However, its drying requires more time, compared to synthetic fabrics. After prolonged use and multiple washes, it may feel a bit stiff.
Very comfortable, although its absorbency is slightly weaker. From a fabric production perspective, it is an environmentally friendly and comfortable material. However, it takes a little longer to dry, and after repeated washing, it may become stiff or lose some absorbency. If you are purchasing organic cotton, be sure to check for certifications like GOTS (Global Organic Textile Standard) to ensure its authenticity.
All-in-one cloth diaper (AIO)
The diaper cover and absorbent insert are sewn together as one piece, forming an all-in-one cloth diaper. The insert can be folded and adjusted based on the baby's needs. For example, for baby boys, you can fold the front thicker and then lay it flat.
This style of cloth diapers excels in convenience. It doesn't require removing the absorbent insert before cleaning, and there's no need to re-insert it afterward, making it easy to put on. If there's no stay-dry layer, adding an extra layer of stay-dry material is recommended to keep the baby's bottom dry.
However, the downside is that it's hard to dry after washing due to the thickness caused by the sewn-together design. A dryer can be used, but caution is needed to avoid damaging the waterproof layer during drying.
All-in-two cloth diaper (AI2)
An all-in-two cloth diaper, abbreviated as AI2 cloth diaper, is essentially a pocket diaper with snaps. The absorbent insert can be snapped inside, preventing it from shifting. However, if you use it as a cover, it can not be reused as a cover since it already has a dry layer inside. Once the stay-dry layer gets wet, the entire diaper needs to be changed.
This is similar to the AI2 cloth diaper. It consists of two parts: an outer waterproof diaper cover and an interchangeable insert.
The difference is that the insert for hybrid cloth diapers can be either cloth or disposable. This feature is particularly useful for travel or outings. If the disposable insert gets wet or soiled, it can be easily discarded in the trash, and a new one can be replaced. The diaper cover can be reused, reducing waste compared to using regular disposable diapers.
Below Picture 1 and 2 are the cloth and disposable insert for your reference. Click to enlarge.
PUL cover for cloth diapers
The PUL (Polyurethane Laminate) cover is a water-resistant hybrid cloth diaper, often adorned with colorful and attractive patterns. Some brands produce separate waterproof diaper covers, which are typically used in conjunction with absorbent inserts or for overnight cloth diapering. They can also be used as swim diapers when babies are younger.
Its advantages include its quick drying time due to its thin and lightweight construction as well as reusability. For example, if you use 8 cloth diapers in a day, you can rotate between 2 PUL covers. After removing the cover, you can simply wipe it dry and let it air out nearby, ready for the next use. You can continue using it until the end of the day before washing.
Regarding the downside, PUL covers can be somewhat challenging to put on, and the absorbent insert may shift during diaper changes, especially if the baby moves.
Additionally, TPU (Thermoplastic Polyurethane) is also a common outer waterproof layer of cloth diapers. If you prioritize breathability and a closer fit, TPU may be more suitable.
Below pictures are for your reference. Click to enlarge.
This is an all-absorbent diaper with a very high capacity to hold liquids. It is often used as an overnight diaper option.
The common fabric for this type is bamboo cotton, which is thick, soft, and highly absorbent, keeping the baby dry even with lower urine output. If the baby sleeps through the night, this fitted diaper can last for 8-10 hours comfortably. Some fitted diapers have inserts sewn directly onto them, while others come with adjustable inserts to accommodate the baby's urine output.
This diaper itself is not waterproof, as it's an entire absorbent pad. Therefore, you need to pair it with a waterproof diaper cover or a 100% pure wool cover for added protection.
As for drawbacks, fitted cloth nappies are expensive and hard to dry. In the hot summer, it may take up to 2 days to completely dry under direct sunlight, and both sides need to be alternately exposed to the sun for thorough drying.
Wool cover for cloth diapers
The 100% wool cover has a soft and skin-friendly texture, making it a natural and safe fabric choice. It utilizes the natural water-repellent properties of wool, providing effective waterproofing. Unlike typical diaper covers, the wool cover achieves the most natural and breathable effect. It can also be worn in winter due to its excellent insulation properties.
In addition to being breathable and keeping the baby warm, the wool cover has the ability to inhibit bacterial growth and break down urine. It is straightforward to use and does not require washing after every use. Wool is not a creature that needs frequent bathing, so after each use, you can simply let the cover dry in a well-ventilated and cool place without leaving any odor.
Note that this applies only when the wool cover has not come into contact with feces. If it becomes soiled, it must be hand-washed in cold water. Regular maintenance is required for wool covers. Frequent washing can remove natural lanolin from the wool, so periodic soaking with 100% pure lanolin is needed to maintain its waterproofing function.
Flat/Preflat/Prefold cloth diaper
This is indeed the traditional cloth diapering method, using a large piece of cloth to wrap around the baby's bottom. There are 3 types:
It is a large piece of cloth that you fold into the size or shape you need.
The cloth is pre-cut into the shape needed. When putting it on the baby, you cross-fold the front and then fold the front flap up, creating two small flaps that can be fastened with diaper pins or a diaper fastener.
This type has a thicker middle section and thinner sides. The simplest method is to fold it in half, creating a long strip for the baby to use. Alternatively, you can use diaper pins or a diaper fastener to fold the two corners over, turning it into a regular diaper.
If you're using only one layer, you'll need to add a waterproof cover to achieve waterproofing. However, during the daytime at home, you can let the baby wear a single flat or fitted diaper without an outer cover for maximum breathability.
The advantages of using such cloth diapers are their versatility in application and quick drying. After washing, they unfold into a flat piece of cloth, which dries faster compared to other types of cloth diapers.
However, it's complex to fold, which requires some time to learn and practice. Pre-fold all the flat diapers in advance. This way, mothers can easily fasten them with diaper pins or a diaper fastener when changing the baby's diaper.
As a leading sourcing company in China, JingSourcing has integrated quality suppliers specializing in manufacturing cloth diapers and bags into our database.
For your custom diaper project, we can quickly find suitable suppliers for you and provide competitive quotes. We support varied cloth diaper types, ensuring good quality and meeting safety requirements.
Our professional agents will assist you in selecting the best printing methods to achieve your desired patterns in the most cost-effective way. And we follow up on production, inspect finished products and arrange shipments to your place at the best rates.
Customize stylish cloth diapers