T-shirts are an extremely common garment, with at least one piece in almost everyone's wardrobe. Whether for casual everyday wear or stylish outfits, T-shirts are an ideal choice.
While, do you know about the different fabrics used to make T-shirts? In this guide, I will introduce them one by one.
Four considerations for choosing T-shirt fabric
The fabric weight is measured in grams per square meter (GSM). We can divide the fabric into lightweight, medium-weight, and heavy weight based on their thickness.
Typically, lightweight fabrics are generally thinner and more breathable, while heavy-weight fabrics are thicker and provide more insulation and structure. Medium-weight fabrics fall somewhere in between, offering a balance of comfort and versatility.
For pure cotton T-shirt fabric, below 160 GSM is lightweight, 160-180 GSM belongs to medium-weight, and over 180 GSM is heavyweight.
Fabric drape refers to the way a fabric falls and flows under its own weight. Factors such as fiber type, weave structure, fabric weight, and softness influence it.
Softer fabrics generally have better drapes. If you want a well-fitted T-shirt, you'd better choose fabrics that offer moderate elasticity, such as cotton spandex or blends.
Fabric stretch is a measure of the fabric's elasticity. The amount of stretch in a fabric can vary depending on the fiber composition, knit or weave structure, and any added elastane or spandex content. Choosing a fabric with moderate elasticity can increase the comfort and wearing experience of the T-shirt.
You can also choose the appropriate fabric for T-shirts based on different needs and environments. For example, if you engage in outdoor activities frequently, selecting fabrics with moisture-wicking, quick-drying, and sun-protection features would be a good choice.
Five common types of T-shirt material
There are different types of T-shirt material. Fabrics of various materials have their own characteristics and suitable occasions. So there is no such thing as the best fabric for T-shirts.
Here I list five common T-shirt material types for your reference.
Cotton is one of the most common and popular materials for T-shirts. It is soft, breathable, and comfortable. Most printing methods, such as screen printing and DTG printing, work well on cotton fabrics.
In addition, there are several different types of cotton T-shirts, each with its unique fiber characteristics and fabric texture.
By carefully combing the cotton fibers, the resulting fabric is softer, smoother, and more durable than regular cotton.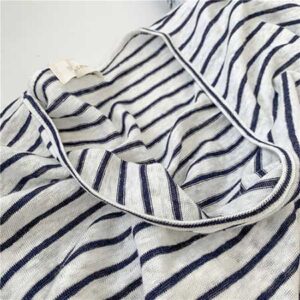 It creates a unique texture and grainy feel in the fabric due to the formation of bamboo-like fiber structures during the spinning process.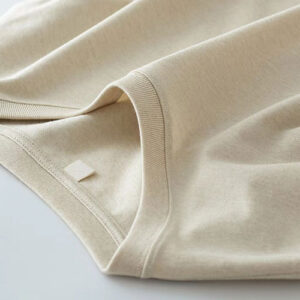 This kind of cotton grows without pesticides or synthetic fertilizers, making it environmentally friendly and suitable for sensitive skin.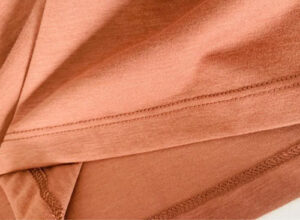 This high-quality cotton is often the raw material for high-end T-shirt fabrics.
Polyester is a synthetic fiber known for its easy care and quick-drying properties. It is often the raw material for quick-drying sportswear such as basketball jerseys.
Polyester fabric is an ideal choice for sublimation printing. Due to its chemical properties, the ink can fully fuse with the fabric fibers, resulting in vibrant and clear patterns.
Note that T-shirts of this fabric may generate static electricity in certain situations, but this can be mitigated by blending it with other fibers such as cotton or wool.
Flax plants produce linen, which possesses a textured weave. T-shirts of this fabric are great for summer because they are lightweight, breathable, moisture-wicking, and quick-drying.
While this T-shirt also has some drawbacks, such as being prone to wrinkles and requiring higher maintenance. This material needs proper care and ironing to maintain a smooth appearance.
Additionally, the softness and comfort of linen fibers may increase over time, making linen T-shirts even more comfortable after multiple washes and wears.
Silk is a natural protein fiber made from silkworms or other insects. This fabric has a natural sheen and is famous for its smooth, soft, and luxurious feel, making it highly desirable for creating high-quality T-shirts.
Additionally, silk is highly breathable, allowing for excellent moisture absorption and temperature regulation, ensuring comfort throughout the day. However, it's important to note that silk requires special care due to its delicate nature. Proper cleaning and handling will help maintain the longevity and beauty of silk T-shirts.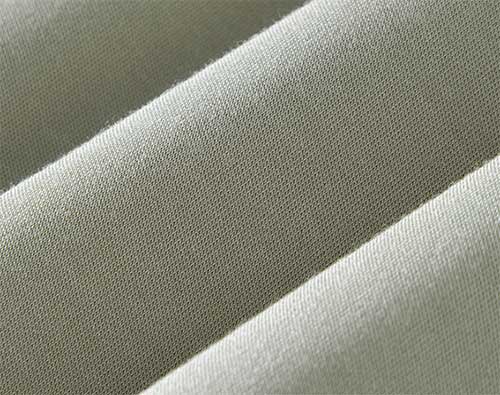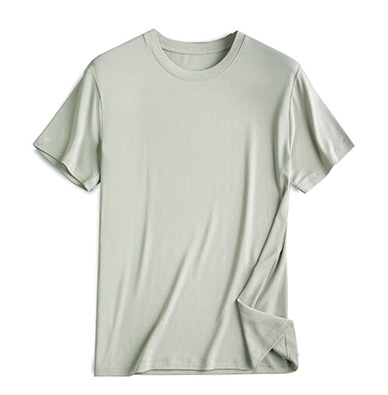 Rayon is a kind of artificial fabric made from natural plants. It is biodegradable, making it highly favored by environmentalists.
Modal T-shirts, made from plant fibers (typically beech trees), are a typical representative of rayon fabric known for their smooth, soft, breathable, and shrink-resistant properties. Other examples include Cupro, made from cotton waste, and Tencel, made from wood pulp fibers.
Like polyester, blending rayon with other materials is a common practice to create fabrics that offer improved performance and affordability.
As a leading sourcing company in China, Jingsourcing has helped 4000+ customers import various products, among which T-shirt is one of the most popular products.
We are experienced in sourcing T-shirts made from different fabrics, including regular and functional. The most suitable fabric material and printing method can be selected according to your needs. Moreover, we can find wholesale T-shirt fabric suppliers to help you manufacture at factory prices.
Get the Best-Suited T-shirt Fabric Material